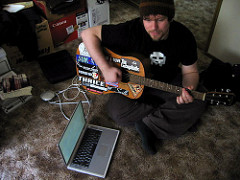 Photo by hfabulous
This post may be able to help more indie musicians understand some of the independent music distribution options that are available. The internet provides various smart choices and opportunities for them to share their creations with a global audience.
In the past, indie musicians had limited options for a large-scale release, usually limited to sending demos to a few popular indie labels of that time. These indie labels still exist in large numbers, and getting noticed by a reputable one can be a good way to gain recognition in the mainstream music industry What Is A Musician? - For some individuals, the role of a musician may be difficult to comprehend. They may struggle to understand: 1 - the nature of a musician's talent or job, 2 - why musicians work around the clock, and 3 - the concept of a fanbase and the boundaries musicians set with fans. Let's delve into each… . These labels often release high-quality albums that are on par with those released by major record labels.
There are several online companies emerging that allow artists to market their CDs and retain all their rights to the music. These companies, however, take a significant percentage of the profits, leaving only a portion for the artist An Artist Portrait (Part One) - This is a fantastic article written exclusively for my Weblog by Frank V. Cahoj. Please feel free to comment here or send him emails. He'll be happy of this. An Artist Portrait (Part One) My name is Frank Cahoj and I have been an artist since I was born. I can say this in confidence without… . It is important to mention that these websites handle the orders, produce each album New Album - Lost Island - I'm excited to announce the release of my latest Trance music album, "Lost Island". It's now available on various digital outlets worldwide, so you can easily find it by doing a quick search on any search engine! But if you're short on time and don't want to go through the hassle of searching, browsing, and… on demand when ordered, and handle shipping.
For years, many indie artists have been creating their own products and selling them in the traditional way, often out of the trunk of their car. Of course, there are upfront expenses associated with producing albums, but the artist has complete control over their work. It is also worth noting that artists who experience successful turnouts at local shows may be able to sell a substantial number of discs there.
Numerous indie artists are now taking advantage of the most significant types of applications that have taken the internet by storm. This refers to file-sharing (peer-to-peer) applications that are available. Any artist can upload their music and create a torrent in the hopes of sharing it with the world. This has become quite popular.
It is crucial for indie musicians to understand that it is important not to give up on their passion. If they genuinely love Artists Psychology - Here's an interesting exclusive article Roland d'Humières, 56 years old psycho-analyst from Aix en Provence (France) has written for our Weblog. I think it to be a very interesting writing about the artists psychology, or maybe "arts psychology", what's behind an artists mind. Artists Psychology Whatever is his/her Art, painting, music, dance, writing, or any… music and want to pursue it professionally (and are skilled at it), they should use the internet to share each track with everyone they know.
By gaining a better understanding of some of the significant independent music distribution options available, more indie musicians can effectively utilize technology to the point where they may not need a conventional distribution deal.
Manuel Marino is a seasoned Senior Producer, Music Composer, and Artist with over a decade of experience. He specializes in branded entertainment across various mediums, including video games, films, and advertising campaigns. With 20+ years as a game music composer, Manuel has worked on numerous platforms, creating diverse orchestral soundtracks. HIRE ME