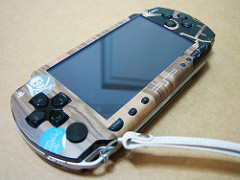 Photo by ShuffleArt
The Sony PSP 3000 is the latest addition to the handheld gaming family, offering more features and advantages compared to the PSP 2000 model. One notable aspect is its compact size, which is even smaller than the Slim&Lite version.
Most handheld PSPs have a similar appearance with minimal size differences. However, the new PSP 3000 is better known for its full-featured peripherals and smaller size compared to its predecessors. Users can enjoy an enhanced screen while using a microphone or headphones. Undoubtedly, this model provides a memorable user experience, thanks to the screen's protection against bright sunlight.
Players can communicate with their contacts through the integrated Skype feature. While this is a multifaceted aspect, the device's greatest strengths lie in its gaming capabilities, both online and offline. The impressive 4×3-inch screen will captivate players during their gaming sessions.
Owners can play games Darklands, a Classic RPG - I'll talk about Darklands, a Classic RPG in a moment. April is an excellent month to reflect on how the year is going and whether we have achieved all or some of the goals we set for ourselves (Read - Overcoming Procrastination). It's also a time to assess the overall positive or negative trend of… online via Wi-Fi, watch movies, listen to music, and access images. In addition to its slim and lightweight design Carpet making - Here's a very interesting article on the Art of carpet making, written by Alhan Keser. Alhan is in in charge of communications for Tip Top Design, a company that specializes in interior design with oriental rugs. He has lived in Turkey and France, working as a freelance journalist and documentary maker. Carpet making The story… with excellent color reproduction, it retains the playback features of previous models.
The system is compatible with older TV Cereal, a blend of old and new - Today we interview Jaques Smit, an incredible man. Just read all his current positions: Managing Director at MindNova Advertising Pty (Ltd), Marketing Director at Inland Kitesurfing Pty (Ltd), CEO at Avonstorm Entertainment, Producer at Avonstorm Pictures Pty (Ltd), Technical Director at Blo-Tant Pty (Ltd). Here is the interview and I initially ask about Cereal, his… models that do not support high-definition standards. Overall, the device is 0.63 inches thick and 2.81 x 6.63 inches wide. It weighs a mere 200g or 7 ounces when including the memory stick, game For Game Design - Andrea Angiolino was born the 27th of April, 1966 in Rome, the city where he still lives. He published many boardgames and books about games, besides developing games for every media. His works appeared in more than a dozen of languages including Korean, Czech and Maltese. He is a game journalist on national magazines, newspapers,… disc, and power.
The 4.3-inch LCD screen boasts a wide display with improved versions that offer better color reproduction, reduced glare, and minimal ghosting when watching high-definition movies. Compared to the PSP 2000 model, the 3000 series provides superior color vibrancy and toggle options for choosing between wide or standard view.
Potential owners can choose between a silver matte finish or a glossy black finish. The silver finish is resistant to smudges and fingerprints, while the black finish may show fingerprints and smudges more prominently. Since the console does not have a clamshell design, it is advisable to use a case to protect the screen and peripherals.
Users can communicate with the device through headphones or the built-in speakers. It supports a 5-volt power adapter or a USB connection. While the USB option allows for trickle-rate charging, having a choice is convenient.
The Sony PSP 3000 offers a wide range of functionalities to keep players satisfied. It includes a streaming feature called LocationFree TV, allowing individuals to watch TV on the device. It is compatible with various music formats such as WMA, DRM-free MP3, AAC, ATRAC3, and WAV. For photo-viewing pleasure, it supports formats like GIF, JPEG, and TIFF, which can be stored on its MS Duo card.
Manuel Marino is a seasoned Senior Producer, Music Composer, and Artist with over a decade of experience. He specializes in branded entertainment across various mediums, including video games, films, and advertising campaigns. With 20+ years as a game music composer, Manuel has worked on numerous platforms, creating diverse orchestral soundtracks. HIRE ME