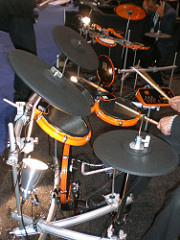 Photo by bigdrumthump.com
If you have an electronic New Album - Lost Island - I'm excited to announce the release of my latest Trance music album, "Lost Island". It's now available on various digital outlets worldwide, so you can easily find it by doing a quick search on any search engine! But if you're short on time and don't want to go through the hassle of searching, browsing, and… drum kit, the next thing you may want to do is purchase all the necessary accessories and additional gear. While you can get by with just your drum set initially, after a while you may want to upgrade certain features. You will also need all the essential components to enable you to play well at home as well as on stage. Here is a brief overview of some of the additional components you may need to purchase for your set.
Headphones One essential component that anyone with an electronic drum set must have is a great pair of headphones. One of the best advantages of having electronic drums is that you can play them without making a lot of noise and annoying your friends or roommates. However, if you want to drum quietly and still hear what you're playing, you will need to connect some good headphones. This will also allow you to listen to tracks while you play. The three factors you should consider when buying headphones are comfort, accurate music reproduction, and isolation. You will want them to fully enclose the ear, which will block out outside noise much better than the type that fit directly into your ear. Some good brands to consider are Alesis, Fender, Audix, Roland, AKG, and ION.
Amplifiers Having headphones is great for playing on your own in a busy environment, but to get a real sense of how the drums sound, you'll want to get a good amplifier. You will also need an amp if you plan on playing in a band and on stage. Your amplifier should be specifically designed for electronic drums. It should be able to reproduce the high, mid, and low range sounds so that you get an accurate representation of the music. You might have the best, most high-tech drums around, but if the amp is not good, your sound will be bad too. Take a look at some of the small, more compact amps and monitor systems by brands like Roland and Simmons for playing at home.
Covers If you're going to move your drums at all, you will need some good drum cases. Chances are you have invested a lot of money in your electronic drums, so spending a bit more to ensure they are well protected is a very wise decision. This is especially important if you plan on touring or going on the road. All the jostling around will wreak havoc on your drums if you don't secure them in a proper case. When purchasing your cases, it's a good idea to have a couple of different ones to ensure that each component is kept separate and secure. You have the option of either soft or hard cases. Soft cases are great for people with limited storage who don't plan on touring. However, the hard cases are better for the road and will keep your drums in pristine condition. You might also want to look for a case with wheels to help ease the load on your back and arms when moving the kit around.
Manuel Marino is a seasoned Senior Producer, Music Composer, and Artist with over a decade of experience. He specializes in branded entertainment across various mediums, including video games, films, and advertising campaigns. With 20+ years as a game music composer, Manuel has worked on numerous platforms, creating diverse orchestral soundtracks. HIRE ME