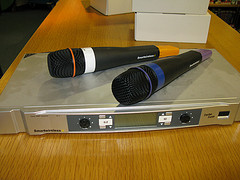 Photo by hankscorpio2019
Achieving perfect live sound can be a complex task. A significant portion of your success relies on the quality of your equipment. Having excellent live sound equipment can make a significant difference in the overall sound you achieve. Selecting the right equipment is crucial in determining whether you have good sound or just sound. Audio sound systems come in various types, including mixers, public address systems, speakers, microphones, and monitoring systems. Seeking professional guidance is essential in choosing the appropriate equipment for your needs. Even with limited experience, you can achieve exceptional sound.
Audio sound systems serve a variety of purposes. Many require PA systems for voice amplification, and specialized equipment is designed for different types of sound, from singing to lecturing. Sound systems are built specifically for vehicles, homes, and professional applications.
Avoid the misconception of purchasing substandard sound equipment solely based on price. Similarly, do not be tempted to invest in an extravagant system that you won't be able to utilize effectively. Base your purchase on your requirements and the system's capabilities. You can gather the necessary information online and find great deals on sound systems while shopping online.
If you have little experience with audio sound systems, you may feel unsure of where to begin. Consider what you want your sound system to accomplish. Perhaps you need a small amplification solution to project your voice to the back of a meeting space. Maybe you require portable equipment that can be easily moved between locations. Alternatively, you might need a permanent installation for an auditorium with diverse amplification demands. It's possible that all you need is a handheld amplification device, like a megaphone but better. Or maybe you simply need to replace components of your existing system, such as a wireless microphone or a new set of speakers. Determining your specific requirements will help you find the right equipment.
Your best option for finding affordable yet excellent audio sound systems is to shop online. By visiting reputable online sources, you can discover great deals on quality equipment.
Regardless of the scale of your project, sound systems can be costly, particularly when aiming for high-quality sound. Shopping online from a trusted source can help you save money while finding the right sound system for your needs.
Manuel Marino is a seasoned Senior Producer, Music Composer, and Artist with over a decade of experience. He specializes in branded entertainment across various mediums, including video games, films, and advertising campaigns. With 20+ years as a game music composer, Manuel has worked on numerous platforms, creating diverse orchestral soundtracks. HIRE ME