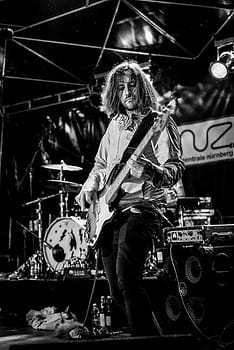 Guitar Pedals: Roland GR-55GK
Bass guitar pedals work wonders, practically speaking. Effects pedals for electric bass guitars are excellent for bassists looking to take their playing to another level while having fun experimenting with a wide range of different sounds. In the past, effects pedals, or stompboxes as some like to call them, were made exclusively for six-string electric guitars. However, bassists can now join in the fun, as effects companies have begun producing bass guitar pedals.
Before bass guitar pedals existed, bass players had to use electric guitar effects pedals. As previously mentioned, these were the only effects pedals available at the time. While the results were not terrible, they were also not ideal. For instance, when a bassist used a distortion pedal designed specifically for an electric guitar and not a bass, the low frequencies characteristic of the bass became difficult to hear and got lost. Today, bass players can achieve the gritty, distorted sound Unleash the Power of Sound: Earbuds for Active Lifestyles - Experience these top-of-the-line earbuds, boasting exceptional wireless sound quality, HiFi bass stereo, and a design tailored to support your active lifestyle. Elevate your workouts and daily routine! they want while still sounding like they're playing a bass guitar.
Sensational Sounds: Discover Unmissable Deals on Trending Music Instruments!
Bass guitar pedals or stompboxes are not the only option bassists have for effects. Some bass amplifiers come with built-in effects, but these effects are often limited to distortion and/or reverb. It's also worth mentioning that there are far more amps with built-in effects available for electric guitars than for electric basses. Another alternative to effects pedals is rackmount units. One rackmount unit usually contains multiple effects; however, rack-mounted effects units are large, heavy, and expensive. They are primarily used in recording studios, rather than on live stages. Bass multi-effects pedals have been a blessing for bass players. Unlike rack-mounted units, they are more compact (although larger than a single effects pedal), making them more portable and suitable for use during live performances. As a result, many bassists prefer bass guitar pedals for their effects over other forms.
Pedals look and function
Bass guitar pedals look and function similarly to effects pedals designed for their six-string counterparts. Almost all the effects available for guitars are also available for basses, including distortion, chorus, delay, compressor, and wah-wah. Some effects, such as distortion and compressor, are generally more popular among bass players. Effects like chorus and flanger are often used by guitarists rather than bassists, but experimenting with new and different sounds is always encouraged. Indeed, various bass effects pedals can help a bassist express themselves better while playing different types of music.
Bass guitar pedals are suitable for all bass players, regardless of skill level. More experienced bassists, however, may get more out of them, particularly while soloing. Effects like the bass wah-wah pedal can almost make the electric bass speak for itself. Bass effects pedals can aid in self-expression, which is essentially what soloing is all about. Many bass legends have shown the world, often with the help of effects pedals, that the bass guitar deserves more recognition and is not an insignificant instrument.
In summary, bass guitar pedals work in numerous ways. They are perhaps most effective in bringing enjoyment and excitement to bass players of all skill levels.
Manuel Marino is a seasoned Senior Producer, Music Composer, and Artist with over a decade of experience. He specializes in branded entertainment across various mediums, including video games, films, and advertising campaigns. With 20+ years as a game music composer, Manuel has worked on numerous platforms, creating diverse orchestral soundtracks. HIRE ME