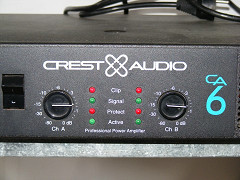 Photo by Public Domain Photos
Typically in the UK, we often consider Maplins as a reference for amplifiers and compare them with this Behringer budget option. It would be unfair to make a direct comparison based on those higher-end brands. The Behringer Europower EP1500 is a perfect fit for someone who is on a tight budget but still needs a good amount of power.
Behringer certainly aims to please the discerning ears of skilled musicians. The bass end of the device is well-balanced, delivering just the right amount of vibrations per second. However, it's the high end that has always been a concern. The Behringer EP2500 power amplifier demonstrates that this German manufacturer can provide quality music with delicacy and warmth, even in the highest registers of the human ear.
Fairchild and Toshiba transistors are two types that Behringer currently utilizes, and they offer excellent value for money to the company. Presently, all products are manufactured in China to the ISO 9000 standard.
The EP2500 and Behringer share some similarities, including their target audience. Both are aimed at a high level, appealing to professional musicians who are hardworking. The EP1500 would be a great choice for live shows in small auditoriums. Solo singers or guitarists would greatly benefit from its power, fidelity, and quality at the top end, without having to worry about taking out a large loan. A few gigs and this little gem will pay for itself.
Like any other Behringer equipment, this kit is highly durable. You don't need to worry about it failing due to physical abuse. You can even push the volume to the maximum without sacrificing its warm tones. Just make sure your speakers can handle it. With this level of volume, however, be prepared as the lower end might not be as friendly. This is to be expected because, if you think about it, it's impossible to expect it to handle the likes of Sting playing at Wembley Arena with its 2 x 700 Watts at 2 Ohms or 1,400 Watts at 4 Ohms.
In conclusion, the Behringer EP1500 Power Amplifier is a great choice. It has many excellent features, such as easily readable peak LEDs, Speakon connectors, effective limiters, and adjustable low-frequency filters that can work in tandem with the limiters. These are all useful and beneficial. If you are someone who worries about messing up on stage, make sure to get this little beauty. Hurry and get one today.
Manuel Marino is a seasoned Senior Producer, Music Composer, and Artist with over a decade of experience. He specializes in branded entertainment across various mediums, including video games, films, and advertising campaigns. With 20+ years as a game music composer, Manuel has worked on numerous platforms, creating diverse orchestral soundtracks. HIRE ME