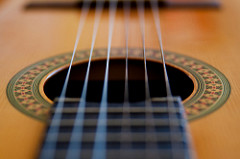 Photo by jronaldlee
Guitar kits offer a convenient and affordable option for beginner instrument builders to create a brand new custom guitar without starting from scratch. Whether you have some experience in musical instrument design Carpet making - Here's a very interesting article on the Art of carpet making, written by Alhan Keser. Alhan is in in charge of communications for Tip Top Design, a company that specializes in interior design with oriental rugs. He has lived in Turkey and France, working as a freelance journalist and documentary maker. Carpet making The story… and want to enhance your skills or have never considered building a homemade guitar and don't know where to start, using a guitar kit is an excellent way to build your own unique axe and have a fun time in the process.
There are many guitar kits available today, and building your own instrument is often easier than people realize. However, it does require dedication, spare time, and effort. With a guitar kit, many of the more challenging tasks are taken care of for you, allowing you to focus on assembling your personalized guitar that is ready to be played.
While it's fantastic to own a beautiful branded guitar, there's something special about having a guitar that you have built yourself, without having to compromise on any aspects. You might be pleasantly surprised to learn that many renowned guitar players have customized their own guitars and built successful careers while using the same instrument. While many of these professionals didn't have the option of using guitar kits when they first started, some have chosen to make their guitar their own and have become as famous for the instrument they play as for their playing style.
Some notable musicians who have played homemade instruments include Eddie Van Halen, who performed with his handcrafted 'Frankenstein' guitar on many early Van Halen albums; Brian May, who played his homemade 'Red Special' guitar throughout his career Darklands, a Classic RPG - I'll talk about Darklands, a Classic RPG in a moment. April is an excellent month to reflect on how the year is going and whether we have achieved all or some of the goals we set for ourselves (Read - Overcoming Procrastination). It's also a time to assess the overall positive or negative trend of… , earning it the nickname 'Fireplace' due to the materials used, some of which were salvaged from a fire at his parents' house; Jimmy Driftwood, a prolific folk About Country Music - For a long time in the 21st century, country music played a minor role within the pop music scene.Shortly after World War II, many new radio stations in urban areas focused primarily on country music, often accompanied by local advertising. In the 1930s, country music's status was consolidated in the mainstream pop music landscape. The… artist An Artist Portrait (Part One) - This is a fantastic article written exclusively for my Weblog by Frank V. Cahoj. Please feel free to comment here or send him emails. He'll be happy of this. An Artist Portrait (Part One) My name is Frank Cahoj and I have been an artist since I was born. I can say this in confidence without… who played a homemade guitar made from a fence paling and other materials; and Bo Diddley, a renowned blues guitarist who played his unique 'Cigar Box' guitar throughout his career.
The internet or a good book can provide guidance and resources to help you choose the right guitar kit for your needs, whether it's an acoustic or electric guitar How to Buy a Guitar - The guitar is known for its dynamic and unique sound, making it a popular instrument in various genres of music. Whether you're a beginner or someone with a growing passion for guitar playing, here are some top tips for buying a guitar: Seek out advice. Start by seeking guidance from someone you know who has… . Starting with an electric guitar kit may be easier as the process is simpler. Most guitar kit websites will also provide information on what is included in the kit and the tools you'll need (you don't need a lot of tools to start, so don't worry about that part). There are also many helpful tutorials available.
If you're interested in building your own instrument, a guitar kit might be worth considering. It can be a rewarding and enjoyable experience, and you'll end up with a guitar that you truly value in the end.
Manuel Marino is a seasoned Senior Producer, Music Composer, and Artist with over a decade of experience. He specializes in branded entertainment across various mediums, including video games, films, and advertising campaigns. With 20+ years as a game music composer, Manuel has worked on numerous platforms, creating diverse orchestral soundtracks. HIRE ME