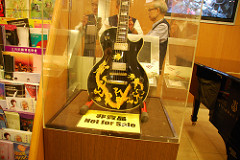 Photo by SpirosK
Music is an important aspect of every culture. People have always sought out more ways to express themselves, and using musical instruments is one of them. Many individuals have learned to play a few tunes on the guitar as a pleasurable hobby. The internet offers numerous websites with guitar tabs, making it easy to learn how to play your favorite songs.
When purchasing a new guitar, you should determine the purpose it will serve and how much you are willing to invest in your hobby. If you are a beginner, you should not spend too much on a guitar, especially if you know you may not take good care of it or might not play it for long. It also depends on whether you intend to use the guitar to play a few songs for yourself and your friends, or if you will be performing for larger groups of people. It is important to know what style of music you want to play and choose an instrument accordingly.
You can ask your friends if any of them are willing to part with their guitar. This way, you have the advantage of getting a guitar whose sound you are already familiar with. Knowing the previous owner and how they took care of their belongings also works in your favor. The best part is that it won't cost you much money.
Music stores offer a wide range of musical instruments to choose from, and the staff should be able to assist you with your selection. You can even test the guitars you are interested in. A good guitar should not have any irregularities or bumps on any part of it, as it can affect the quality of the sound it produces. Make sure to test it in a quiet room. Play each fret on each string and listen for any non-musical sounds. There should only be music and no buzzing noises. You can also play a song to see if you are satisfied with how the guitar sounds. Ask any questions that come to mind Self-realization and meditation (yoga for the mind) - Peter Cajander allowed us to publish this part from his book Fragments of Reality. It talks about life from a personal perspective covering areas ranging from self-realization, meditation, stress, happiness, death, and everyday living. Peter is a writer, philosophical thinker, entrepreneur, strategy consultant, business executive, and author to name a few titles. He has been… about the guitar. The staff is there to help you, and it's in their best interest to sell that guitar to you. They may even offer you a discount to assist you in making up your mind.
Buying a guitar How to Buy a Guitar - The guitar is known for its dynamic and unique sound, making it a popular instrument in various genres of music. Whether you're a beginner or someone with a growing passion for guitar playing, here are some top tips for buying a guitar: Seek out advice. Start by seeking guidance from someone you know who has… online is not a great idea as you cannot test the sound it produces. You cannot feel it, and you only have images of it. If this is the only option for you to get a guitar, then research is crucial. Read what others think of the model you want to purchase and ensure that you can return the guitar if you are not satisfied with it and receive a full refund.
Manuel Marino is a seasoned Senior Producer, Music Composer, and Artist with over a decade of experience. He specializes in branded entertainment across various mediums, including video games, films, and advertising campaigns. With 20+ years as a game music composer, Manuel has worked on numerous platforms, creating diverse orchestral soundtracks. HIRE ME