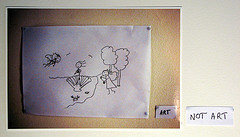 by
johncarney
Art lovers understand that fine art, regardless of style or type, can enhance their living spaces, transforming them into personal galleries. When deciding on the ideal masterpieces for your home, consider your preferences, how the art will complement your space, and the budget you're willing to allocate.
Identify your preferred type of art: There are many different styles of art to suit your tastes, such as oil paintings, contemporary, watercolors, charcoal, modern, abstract, and more. Determine if you want a single wall painting Painting: A Spiritual Pathway to the Divine - In a world increasingly driven by technology and fast-paced living, the art of painting provides an oasis of calm and introspection. It allows both the artist and the observer to delve deep into a realm often considered transcendental. For many, painting serves as a bridge to the divine, a medium through which spirituality is explored… or a multi-piece canvas, as this will be an important factor in choosing the right art for your home.
Understand the impact of art on your home: Art enthusiasts often want to adorn their homes with wall art, as it can bring passion and emotion into a space. Framed art can transform
…
...Read the rest.
"An Art Lover Needs The Right Art"