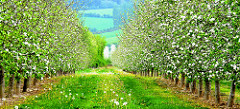 by
Leshaines123
The Distinguishing Features of Ancient Chinese Culture
Chinese culture boasts a long and well-documented history spanning 5,000 years, chronicled in historical books.
Rich Diversity: It is important to note that traditional Chinese culture is not a singular entity but rather a fusion of multiple cultures from different tribes and periods. For instance, Buddhism did not originate in China but was introduced from India through West Asia. Various West Asian tribes practiced Buddhism and, after being defeated by the Turkic tribe, began migrating to China, bringing Buddhism with them. Consequently, Buddhism became one of the major religions in China. Throughout history, different tribes governed Chinese lands, yet unlike other colonizers, they did not obliterate the mainstream Chinese culture. Instead, they embraced and enriched Chinese culture by incorporating elements from their own cultural backgrounds. As a result, historical China stands as one of the most multicultural nations in the world. Every facet of Chinese culture, including food, clothing, drama, and religion, is incredibly diverse and rich in content.
Semi-Divine Origins: In the early stages of Chinese history, Chinese culture took on a semi-divine character, with divine beings coexisting with humans and directly imparting culture to them. Chinese people who resided …
...Read the rest.
"Chinese Culture – A Conglomeration Of Multiple Cultures"