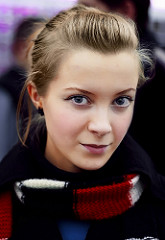 Photo by floodkoff
If you have an idea for a novel that you believe will be a bestseller, you're not alone. Many people have great inspirations for books but aren't quite sure how to go about writing them. Once you understand the basic ingredients and structure of a novel, it becomes much easier. With a solid plan, you can transform your ideas into something that others will read and enjoy. By the end of this, you will know what to do.
Undoubtedly, the most crucial element of any good novel is the main character. This protagonist must meet several criteria. They need to be someone that readers can identify with, sympathize with, and understand. Someone they can root for in a conflict or disagreement. To achieve this, you must make them as real as possible. Describe them physically, mentally, and emotionally. Ensure that you know their complete background and family history. Make sure they have both strengths and weaknesses.
Next is the story An Artist Portrait (Part Two) - This is the Part Two (and final part) of the true life story as artist written by Frank V. Cahoj for our Weblog. (Part One) An Artist Portrait (Part Two) I …
...Read the rest.
"Critical Aspects Of A Novel"