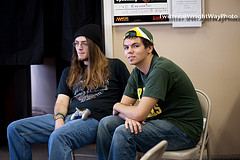 by
Wright Way Photography
While it undoubtedly remains an essential aspect of my life An Artist Portrait (Part Two) - This is the Part Two (and final part) of the true life story as artist written by Frank V. Cahoj for our Weblog. (Part One) An Artist Portrait (Part Two) I give an unbelievable amount of credence to these two early periods in my life: one of everlasting creation, one of analysis and disillusionment. The… , I sometimes find it increasingly challenging to defend the gaming community. Allow me to elaborate.
Some time ago, film critic Roger Ebert asserted that video games Darklands, a Classic RPG - I'll talk about Darklands, a Classic RPG in a moment. April is an excellent month to reflect on how the year is going and whether we have achieved all or some of the goals we set for ourselves (Read - Overcoming Procrastination). It's also a time to assess the overall positive or negative trend of… could not be considered art, which sparked outrage among a vast number of gamers who were eager to prove him wrong.
Recently, Ebert reiterated his stance, much to the dismay of the many individuals who had previously rallied …
...Read the rest.
"Videogames As Art – The Battle Continues"