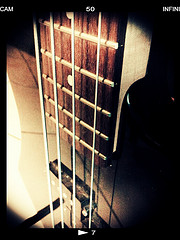 by
martinhoward
Inexpensive electric guitars or semi-acoustic guitars – it doesn't matter which type you own, you'll still need to perform repairs from time to time. While we can't imagine the original delta blues guitar players using anything other than their trusty old acoustic guitar and the shirt off their back, today's guitar maintenance requires a more thorough approach. For time-conscious and careful guitarists, there are a few essential items to have in their toolkit to maintain playability and ensure that any maintenance takes minimal time. So, unless you have endless time on your hands or fancy keeping it authentic like those early guitar pioneers, you should have or have access to the following items to keep your trusty instrument in excellent condition:
First, you should have some guitar strings in a size you prefer, suitable for the guitars you'll be using. If you use cheap electric guitars, make sure you have the correct size guitar strings; if you're using electro-acoustic guitars, carry the appropriate guitar strings.
Next, consider a multi-tool, like a Swiss Army knife, which includes flat-head and cross-head screwdrivers, pliers, angled snips (ideal for cutting wire pieces), and a nail file for your fingernails! Additionally, it's worth investing in actual angled snips for cutting off replaced guitar strings, as they'll do the job more efficiently than the snips in the multi-tool. As you know, guitar strings can be surprisingly durable, so having proper tools for trimming the guitar string after swapping is essential. For any 5mm connections on guitar jacks and effects boxes, keep a small wrench and hand screwdriver handy, as they tend to loosen frequently. A small towel is useful for quickly cleaning your gear, especially sweat and dirt that accumulates and can cause damage. Spare picks can be stored in an old cigarette tin, along with rogue screws, bolts, and washers that seem to turn up without a clear origin. Another often overlooked item is extra 9V battery packs, used for stompboxes and pre-amps in electric acoustic guitars, which tend to run out at the most inconvenient times.
These are the basic items to have on hand, whether you're at home, rehearsing, or performing. If you're considering going above and beyond, you can also consider the following:
Lubrication is ideal for applying to new strings when you change them. It prevents them from breaking when you're putting them on, and you can also use a string cleaner, which extends the useful life of a string and prevents oxidation from setting in. Hex keys in various (but appropriate) sizes are helpful if your multi-tool doesn't have them, especially for minor repairs around the pickup area. To restring your guitar in double-quick time, consider getting a battery-operated guitar string changer. Just remember to carry extra batteries for it, or it will be rather pointless.
So, there are numerous things to consider if you want to ensure your affordable guitar remains in fantastic condition. Just don't forget the maintenance to keep everything running smoothly!