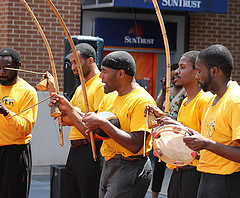 by
Elvert Barnes
I believe that anyone who appreciates music, or has a particular taste in musical genres, can agree that sometimes listening to the same songs repeatedly can become tiresome. Your passion for the music may gradually diminish as you hear the same tracks over and over. In my opinion, this is a sign that it's time to explore new avenues. So, the question I pose to you is, should you expand your jazz collection?
Many people might not realize just how diverse and rich the world of jazz truly is. With numerous sub-genres to explore, your journey could be virtually endless. One captivating modern form of jazz is acid jazz. Never underestimate the incredible power that acid jazz has to offer.
Now, you may be wondering, "what is acid jazz?" Acid jazz is a fusion of various musical elements and instruments that combine to create a unique blend of jazz, electronica, and sometimes even hip hop. This doesn't mean that the genre lacks the soulful core found in traditional jazz tunes – quite the opposite! In fact, Roy Ayers and Donald Byrd are often credited as pioneers of the acid jazz movement.
Despite the use of multiple instruments …
...Read the rest.
"Jazz Gets Modern With Acid Jazz"