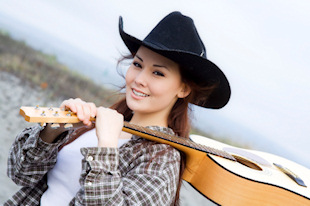 Robert Benson (if you remember he wrote An Explosion of Blues Music) this time gave me a review about the next big star in Country Music About Country Music - For a long time in the 21st century, country music played a minor role within the pop music scene.Shortly after World War II, many new radio stations in urban areas focused primarily on country music, often accompanied by local advertising. In the 1930s, country music's status was consolidated in the mainstream pop music landscape. The… , Laura Roppe (pronounced ro-pay). She has a Shania Twain-like quality and already is receiving major air play in Europe. Robert said me also that he has just launched a giveaway for his ebook "The Fascinating Hobby Of Vinyl Record Collecting" and now it is a free download! The ebook is for anyone who loves music and records and is full of great details about vinyl.
Country Music Star Is Unleashed!
Apparently being the runner up in Kenny Chesney's "Next Big Star Competition" in May of 2008 is just the springboard that Country Music's next star needed, as Laura Roppe's debut CD (homepage) can attest to. The CD "Girl Like This" will …
...Read the rest.
"Country Music Star Is Unleashed!"