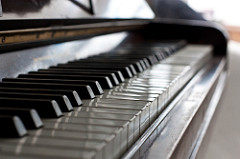 Photo by ChrisSinjo
The idea of creating an electronic New Album - Lost Island - I'm excited to announce the release of my latest Trance music album, "Lost Island". It's now available on various digital outlets worldwide, so you can easily find it by doing a quick search on any search engine! But if you're short on time and don't want to go through the hassle of searching, browsing, and… keyboard instrument that could compete with the best acoustic models emerged in the early 1980s The Synthpop Era - I'm not one to dwell on the past, but I must admit that music from the synthpop era of the 1980s and surrounding years holds a special place in my heart. Perhaps I'm biased, but I can't help but feel that modern music has lost a lot of its originality and creativity. Gone are the… . This was a time before the internet, computers, and smartphones. Yamaha's Clavinova was born, capable of producing digital piano music that sounded authentic, all housed in a compact keyboard smaller than most spinet pianos.
Yamaha, a Japanese company that has been manufacturing traditional acoustic pianos since 1900, is renowned for producing high-quality instruments with exceptional sound, still used in many concert halls today. At the forefront of technological advancements, Yamaha's technicians were excited about the potential of recreating digital music on instruments that could rival their acoustic counterparts.
The Clavinova series quickly carved out its own market. It seamlessly combined cutting-edge technology with traditional musical elements like music theory What Is A Musician? - For some individuals, the role of a musician may be difficult to comprehend. They may struggle to understand: 1 - the nature of a musician's talent or job, 2 - why musicians work around the clock, and 3 - the concept of a fanbase and the boundaries musicians set with fans. Let's delve into each… , composition, and harmony, making it a popular choice among music educators. These keyboards provide the sound and touch of a real piano while being compact enough to fit into small studios or practice spaces.
Moreover, they are affordable. The price of a traditional acoustic grand piano puts it out of reach for many households, and even upright pianos can be costly to acquire. The concept behind the creation An Artist Portrait (Part Two) - This is the Part Two (and final part) of the true life story as artist written by Frank V. Cahoj for our Weblog. (Part One) An Artist Portrait (Part Two) I give an unbelievable amount of credence to these two early periods in my life: one of everlasting creation, one of analysis and disillusionment. The… of the electronic series was to make high-quality instruments accessible, allowing more people to practice and play on a genuine, top-quality sounding keyboard. Today, over 700 music schools utilize these instruments.
Every piano in the Clavinova series undergoes rigorous testing before leaving the factory. The realistic sound eliminates the need for expensive tuning and maintains the correct pitch indefinitely. Headphone jacks are standard, enabling hours of private and quiet practice. With a legacy of pioneering digital sound technology, Yamaha continues to develop and innovate, establishing itself as a trusted global brand in the world of musical instruments.
For beginners, many models include a built-in metronome, and advanced players can enjoy the advanced software features. The Clavinova Yamaha has become a respected musical instrument with a voice and touch that rival any comparable acoustic piano. Expertly crafted with attention to construction materials, finishing details, and fine tuning, it is an excellent instrument for embarking on a musical journey. For accomplished pianists, it offers a sensitive, versatile professional instrument.
Manuel Marino is a seasoned Senior Producer, Music Composer, and Artist with over a decade of experience. He specializes in branded entertainment across various mediums, including video games, films, and advertising campaigns. With 20+ years as a game music composer, Manuel has worked on numerous platforms, creating diverse orchestral soundtracks. HIRE ME