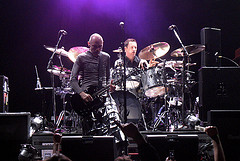 Photo by timsnell
For those who are considering taking up drumming, there are a few things you should know before you take the first step and sign up for classes. Drumming can be incredibly fun and rewarding when things go well, but it can also be challenging to learn and frustrating when you encounter difficulties. This is why many people start drumming only to feel like giving up after a short while. To prevent this from happening to you, it's a good idea to equip yourself with some helpful tips and practices that will guide you through the tough spots.
Learn Sheet Music: A valuable tip is to learn how to read music. Although it may require time and effort, it is worthwhile in the long run. As you improve, you may want to play along with a band or other musicians, which often requires reading sheet music. Learning to read music is not as difficult as it seems; it just requires dedicated study.
Forget the Sheet Music: While understanding sheet music is beneficial, it can also become boring quickly. To keep your interest alive, it's a good idea to occasionally play along with actual songs. You can even do this when you're just starting out. Simply find a song you enjoy that has an easy beat to play along with. This will help maintain your enthusiasm for playing and learning a new instrument.
Get a Quality Drum Kit: It's important to invest in a well-made drum kit that suits you. Brand new, high-end drum kits can be quite expensive but worth it if you have the means to afford one. However, if you don't, you can still find excellent used drum kits at a fraction of the cost. Explore websites like eBay to see what options are available. Some reputable brands to consider are Yamaha, Zildjian, Pearl, Roland, and Alesis.
Start Playing: Now that you have your drum kit and some helpful tips, it's time to start playing! The best way to improve your musical skills is to practice as much as possible. If you live with others who may be bothered by the sound, you might want to consider soundproofing your drum area or investing in an electronic New Album - Lost Island - I'm excited to announce the release of my latest Trance music album, "Lost Island". It's now available on various digital outlets worldwide, so you can easily find it by doing a quick search on any search engine! But if you're short on time and don't want to go through the hassle of searching, browsing, and… drum kit that can be played quietly. Remember to set aside dedicated practice times and track your progress. You can do this by recording yourself or simply taking notes after each practice session.
Manuel Marino is a seasoned Senior Producer, Music Composer, and Artist with over a decade of experience. He specializes in branded entertainment across various mediums, including video games, films, and advertising campaigns. With 20+ years as a game music composer, Manuel has worked on numerous platforms, creating diverse orchestral soundtracks. HIRE ME