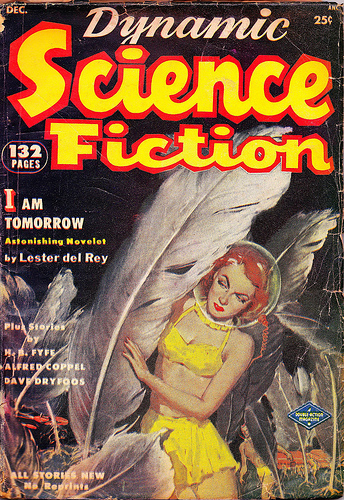 Science Fiction in Radio
Some might argue that Science Fiction has existed as long as civilization itself, as people gazed at the stars and wondered, "what if…"
Juvenile Serials from the 1930s
The first science fiction old-time radio shows were primarily adventure serials aimed at young audiences, featuring a scientific theme, most notably Buck Rogers and Flash Gordon.
These children's programs tended to glamorize scientific progress and featured larger-than-life heroes. As Science Fiction expanded into adult fiction, the fascination with the genre persisted in the juvenile market. Radio shows like Planet Man, Space Patrol, Captain Starr, and Tom Corbett continued to captivate young listeners.
Early Science Fiction on the Airwaves
Within the horror and drama genres, there were some standout science fiction radio plays. One of the most memorable science fiction old-time radio shows from the 1930s was Orson Welles' War of the Worlds on Mercury Theater, aired on Halloween. This broadcast had a tremendous impact on the nation, as Welles blurred the lines between fiction and reality, convincingly making America believe that Martians were invading.
Initial Attempts at Science Fiction Drama
Radio was slow to develop a series dedicated to serious adult science fiction drama, with the first show focused on science fiction airing in 1950. There were some attempts at science fiction on Escape, Suspense, Lights Out, and others.
2000 Plus
These programs were written in-house from original material, rather than from science fiction authors or classic stories. Dimension X hit the airwaves a month later, with the endorsement of most of the science fiction community, featuring writings from the leading science fiction authors of the time, including Isaac Asimov, Robert Bloch, Ray Bradbury, Robert A. Heinlein, Clifford D. Simak, and even Kurt Vonnegut.
The Pinnacle of Science Fiction Old Time Radio
Many fans consider 1950-1960 to be the Golden Era of Science Fiction. This is the decade when the best science fiction old-time radio was produced. Acclaimed editor of "Astounding Magazine," John Campbell, created and hosted Exploring Tomorrow with the help of several of his top contributing writers. X-Minus One was considered the best of not just science fiction radio shows but of radio dramas.
End of Science Fiction on Radio
When Russian scientists launched Sputnik in 1957, science fiction became more of a science reality. Innovations once thought to exist only in science fiction, like rockets, televisions, and computers, were becoming a reality. The future of entertainment was on television Cereal, a blend of old and new - Today we interview Jaques Smit, an incredible man. Just read all his current positions: Managing Director at MindNova Advertising Pty (Ltd), Marketing Director at Inland Kitesurfing Pty (Ltd), CEO at Avonstorm Entertainment, Producer at Avonstorm Pictures Pty (Ltd), Technical Director at Blo-Tant Pty (Ltd). Here is the interview and I initially ask about Cereal, his… , which became increasingly common in American households, and the golden age of science fiction left the airwaves. Fortunately, many of these recordings were preserved for enjoyment today. Numerous science fiction old-time radio shows survived their conclusion, including Dimension X and X-Minus One.
Manuel Marino is a seasoned Senior Producer, Music Composer, and Artist with over a decade of experience. He specializes in branded entertainment across various mediums, including video games, films, and advertising campaigns. With 20+ years as a game music composer, Manuel has worked on numerous platforms, creating diverse orchestral soundtracks. HIRE ME