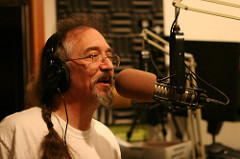 Photo by Laughing Squid
When you just can't get enough of your favorite tunes, it's time to go online. Traditional radio has been transformed by online radio. When you go online, you get great sound and more of your favorite songs. With thousands of online radio stations, you can be sure to find an easy-listening online radio station to enjoy whenever you want. Online radio is available 365 days a year, all day and all night. The best part is that it's completely commercial-free. You can enjoy track after track of your favorites without any interruptions.
With the best easy-listening online radio, the stations you love Artists Psychology - Here's an interesting exclusive article Roland d'Humières, 56 years old psycho-analyst from Aix en Provence (France) has written for our Weblog. I think it to be a very interesting writing about the artists psychology, or maybe "arts psychology", what's behind an artists mind. Artists Psychology Whatever is his/her Art, painting, music, dance, writing, or any… are never unavailable. You have the music you want, whenever you want it. It's as easy as going online and enjoying your music. Another feature of the top online radio stations is their minimal graphic interface. Online radio services have websites that are simple and don't bombard you with advertisements or unnecessary visuals. They focus The Importance of Having a Goal in Life and Why Music is a Harmonious Objective - Having a goal in life is essential for many reasons. It provides a sense of direction, drives motivation, enhances focus, and contributes to personal satisfaction. An aim or target in life helps one to streamline their energy, thoughts, and efforts towards achieving something specific. Without an objective, life can feel aimless and unsatisfying, and individuals… on the music. They want you to be able to enjoy it without any distractions. You have ultimate access to your favorite tunes without graphic ads that slow down the loading of the track.
There are over 5,000 stations to choose from, including many easy-listening online radio stations that offer the perfect music to suit your mood. If you want some background music that is not too loud or demanding, easy-listening is just the ticket. The number of stations is constantly growing, ensuring that you will be able to find a perfect fit for your taste in music. You don't have to put up with songs you're tired of or those you never liked in the first place.
The reason you keep flipping back and forth between stations on your traditional radio is probably because of the commercials. Commercials interrupt your music just when you want it most. Lengthy commercial breaks drive you away in search of music. Internet radio has very little advertising An Artist Portrait (Part One) - This is a fantastic article written exclusively for my Weblog by Frank V. Cahoj. Please feel free to comment here or send him emails. He'll be happy of this. An Artist Portrait (Part One) My name is Frank Cahoj and I have been an artist since I was born. I can say this in confidence without… of any kind, allowing you to enjoy your music uninterrupted. Neither graphic nor audio advertisements will get in the way of your easy-listening online radio.
It's all about great sound, perfect sound, without the annoying commercial breaks that you try to avoid. With online radio, you are always guaranteed to find what you want.
Manuel Marino is a seasoned Senior Producer, Music Composer, and Artist with over a decade of experience. He specializes in branded entertainment across various mediums, including video games, films, and advertising campaigns. With 20+ years as a game music composer, Manuel has worked on numerous platforms, creating diverse orchestral soundtracks. HIRE ME