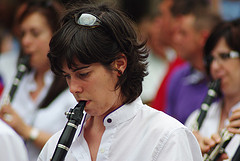 by
Iker Merodio | Photography
Country music About Country Music - For a long time in the 21st century, country music played a minor role within the pop music scene.Shortly after World War II, many new radio stations in urban areas focused primarily on country music, often accompanied by local advertising. In the 1930s, country music's status was consolidated in the mainstream pop music landscape. The… is a genre that has long been a favorite for many. This style features simple vocals and harmonies, accompanied by string instruments such as banjos, electric and acoustic guitars, fiddles like violins, and harmonicas. It originated in the southern United States and was influenced by cowboy music from the west. The genre often includes romantic and melancholic ballads.
Music has a significant impact on our lives. Upbeat music, like pop, energizes and motivates us, while calmer music, such as piano solos or instrumentals, helps us unwind and relax. Like every genre, country music has distinct effects on its listeners.
The positive effects:
Listening to your favorite country songs can be beneficial for your cardiovascular system, according to research conducted by experts at the University of Maryland School of Medicine in Baltimore. Happy music increases blood vessel dilation, which in turn enhances blood flow and the efficiency of delivering oxygen to cells, resulting in a relaxed state. "Many of the participants in the study chose country music as their favorite genre to evoke joy," said Dr. Miller (University of Maryland Medical Center Article, 2008). Examples of cheerful country songs include "It's a Great Day to Be Alive" by Travis Tritt, "Dixieland Delight" by Alabama, "Happiest Girl in the Whole USA" by Donna Fargo, "American Saturday Night" by Brad Paisley, and "I Like It, I Love It" by Tim McGraw.
The negative effects:
As with anything, there are also disadvantages to listening to country music. The genre has been associated with depression and suicide, particularly when people listen to older, less upbeat country songs. Country music can also contribute to unhealthy habits like drinking and smoking for some listeners.
However, regardless of the type of music you listen to, you still have control over your emotions Artists Psychology - Here's an interesting exclusive article Roland d'Humières, 56 years old psycho-analyst from Aix en Provence (France) has written for our Weblog. I think it to be a very interesting writing about the artists psychology, or maybe "arts psychology", what's behind an artists mind. Artists Psychology Whatever is his/her Art, painting, music, dance, writing, or any… and can respond appropriately. Listening to sad country songs can help you face reality and move forward, or it may serve as a catalyst for developing For Game Design - Andrea Angiolino was born the 27th of April, 1966 in Rome, the city where he still lives. He published many boardgames and books about games, besides developing games for every media. His works appeared in more than a dozen of languages including Korean, Czech and Maltese. He is a game journalist on national magazines, newspapers,… coping mechanisms.
Country music has been an integral part of many people's lives. Many country songs exude an irresistible warmth, with singers delivering heartfelt performances from the depths of their souls. The unique melodies and meaningful lyrics of country music have attracted a diverse audience, making it a favorite genre for countless listeners.
Manuel Marino is a seasoned Senior Producer, Music Composer, and Artist with over a decade of experience. He specializes in branded entertainment across various mediums, including video games, films, and advertising campaigns. With 20+ years as a game music composer, Manuel has worked on numerous platforms, creating diverse orchestral soundtracks. HIRE ME