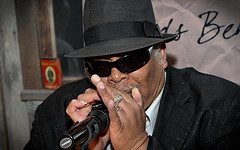 Photo by Isaac Singleton Photography
The harmonica The Annals Of Blues Guitar - The blues is a genre of music that can be vocal, instrumental (blues guitar), or both. It primarily uses the 'blue' notes, which are based on a 'minor pentatonic' scale, also known as the blues scale. Blues music originated in African-American communities in the U.S., drawing from work songs, spirituals, field hollers, chants, shouts, and… was invented in the early 19th century, shortly after the first free reed instruments were introduced in European countries around 1820. However, free reed instruments like the Sheng had already been popular in East Asian countries for many decades. While Christian Friedrich Ludwig Buschmann is often credited with inventing the harmonica, there were other inventors who had also created similar free reed instruments during the same period.
Since its early days, the harmonica had been a reasonably popular musical instrument, but its popularity soared when Hohner began manufacturing harmonicas and exporting them to North America. It is even believed that President Abraham Lincoln carried a harmonica in his pocket, and harmonicas were also provided to soldiers during the American Civil War.
The first recorded harmonica tracks were produced in the 1920s in the United States. There were solo recordings by DeFord Bailey, as well as duo tracks with guitarists Walter Horton, Hammie Nixon, and Sonny Terry. During this time, harmonicas were mostly seen as a toy for the less privileged.
The remarkable versatility of the harmonica came to the forefront in the 1930s when Larry Adler, an American harmonica player, performed some remarkable works for composers such as Malcolm Arnold, Ralph Vaughan Williams, Arthur Benjamin, and Darius Milhaud.
In the 1950s, harmonicas gained popularity among black migrants in cities like Chicago, New York, St. Louis, and Detroit. During this era, Sonny Boy Williamson II, also known as Alec Rice Miller, rose to stardom with a full blues band. Additionally, Marion "Little Walter" Jacobs, an early harmonica performer, made significant changes to the instrument when he played it using a microphone. Big Walter Horton also became one of the well-known names among the blues harmonica bandleaders, along with Willie Dixon in the 1950s.
In the 1960s and beyond, the use of the harmonica decreased, mainly due to the increasing popularity of the electric lead guitar. James Cotton, a Chicago harmonica player, primarily focused on slow and powerful note bends. Other notable blues harmonica players during this period included Lazy Lester, Billy Branch, Norton Buffalo, Rabini Zami, Bob Dylan, Corky Siegel, Jerry Portnoy, Kim Wilson, Sugar Blue, Jack Bruce of Cream, and Charlie Musselwhite, among others. Legendary figures who featured harmonica solos in their music include Mick Jagger and Brian Jones of the Rolling Stones, Bruce Springsteen, John Mayall, Steven Tyler of Aerosmith, and Taj Mahal.
With contributions from some of the best modern harmonica players like Jason Ricci, Howard Levy, Carlos del Junco, and Chris Michalek, the use of the harmonica has reached new heights. The renowned Stevie Wonder mastered playing the instrument at the age of 5 and frequently incorporates it in his recordings. Jimmy Reed is another artist An Artist Portrait (Part One) - This is a fantastic article written exclusively for my Weblog by Frank V. Cahoj. Please feel free to comment here or send him emails. He'll be happy of this. An Artist Portrait (Part One) My name is Frank Cahoj and I have been an artist since I was born. I can say this in confidence without… who often uses the harmonica in his blues shuffle recordings.
In other regions, there have been notable harmonica players like Philip Achille, a European harmonica expert who excelled in classical, Irish, Qawali, jazz, and Sufi music. Other great players from Europe include Steve Baker and the late Johnny Müller from Germany, as well as Nikki Gadout from France.
In East Asia, when the harmonica was initially introduced to Japan, the Tremolo harmonica became popular. However, with the relocation of Chinese harmonica experts to Japan, the largest harmonica companies such as the China Harmonica Society, the Heart String Harmonica Society, and the Chinese Y.M.C.A. emerged. Some of the distinguished brands from this region include Fung On and Lau Mok, who popularized the chromatic harmonica in the 1950s.
In the 1990s, many harmonica masters from Hong Kong gained recognition after their performances in international events like the Asia Pacific Harmonica Festival and the World Harmonica Festival in Germany. These musicians showcased the skills and artistry of harmonica playing from East Asia, contributing to the instrument's global reputation.
Manuel Marino is a seasoned Senior Producer, Music Composer, and Artist with over a decade of experience. He specializes in branded entertainment across various mediums, including video games, films, and advertising campaigns. With 20+ years as a game music composer, Manuel has worked on numerous platforms, creating diverse orchestral soundtracks. HIRE ME