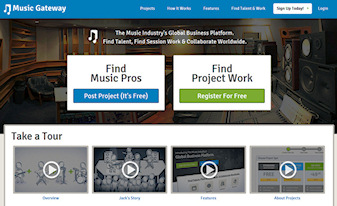 Lately I've had my account upgraded to PRO on MusicGateway.net, the new musicians platform and community by my friend Jon Skinner.
Jon has made a great job, and the platform mainly is used for 2 things:
1- Find Music Pros for your Project
2- Find Project Work
Both these activities are free, but there is a PRO account with added options and interesting features.
Music Gateway is for artists, to get connected, get noticed and find multiple opportunities worldwide; for musicians, to get paid session work; for producers, to acquire project work and develop their career Darklands, a Classic RPG - I'll talk about Darklands, a Classic RPG in a moment. April is an excellent month to reflect on how the year is going and whether we have achieved all or some of the goals we set for ourselves (Read - Overcoming Procrastination). It's also a time to assess the overall positive or negative trend of… ; for record labels and studios.
Let's not forget you will find also opportunities in the TV Cereal, a blend of old and new - Today we interview Jaques Smit, an incredible man. Just read all his current positions: Managing Director at MindNova Advertising Pty (Ltd), Marketing Director at Inland Kitesurfing Pty (Ltd), CEO at Avonstorm Entertainment, Producer at Avonstorm Pictures Pty (Ltd), Technical Director at Blo-Tant Pty (Ltd). Here is the interview and I initially ask about Cereal, his… , Film, Sync and Mastering Music Production - Improve Your Sound - The rise in popularity of work-from-home studios has significantly impacted the music production landscape in recent years, driven by the increasing availability of tools and technology. This growth has led to the emergence of mobile recording rigs, making it possible to record full band performances anywhere. While one might anticipate a wealth of high-quality music,… fields. Anyway, the heart of MusicGateway.net  is the project creation An Artist Portrait (Part Two) - This is the Part Two (and final part) of the true life story as artist written by Frank V. Cahoj for our Weblog. (Part One) An Artist Portrait (Part Two) I give an unbelievable amount of credence to these two early periods in my life: one of everlasting creation, one of analysis and disillusionment. The… page, so, let's begin from there.
In few seconds I signed in and created a new project. Here is the project panel: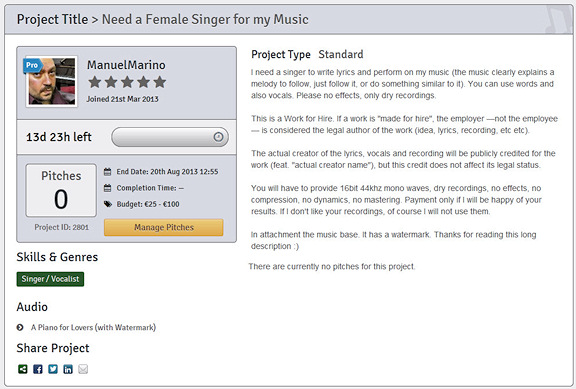 Now I just wait for pitches (proposals or bids) from a female singer and let's see what will happen. The platform automatically sends emails to the performers, so I should receive pitches in few hours.
What I can tell you is that I'm very enthusiast of Jon project, a project that it's having important success and will have even more success in the next weeks.
Manuel Marino is a seasoned Senior Producer, Music Composer, and Artist with over a decade of experience. He specializes in branded entertainment across various mediums, including video games, films, and advertising campaigns. With 20+ years as a game music composer, Manuel has worked on numerous platforms, creating diverse orchestral soundtracks. HIRE ME