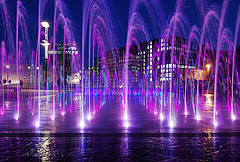 by
mattbuck4950
The internet has liberated many previously institutionalized things, including modern abstract art, which used to be exclusively the domain of galleries and gallery owners. Now, people can source their art directly, allowing their own preferences to play as much of a role as their budgets in determining what goes on their walls. But how do you ensure that you're finding quality art when you no longer have the "guarantee" of an art gallery dealer? In other words, since anything can be sold as art, how much of it is worth buying as art, and where do you find it?
The answer is fairly straightforward: go where the reputation is. Websites that build solid reputations for offering quality modern abstract art (like the UK's own Art2Arts, a site dedicated to providing original art across various painted formats) do so for a reason. Websites that sell art rise or fall based on their reputations, so you can be confident that a well-regarded site is a safe place to start searching.
Ultimately, your final judgment should rest squarely on the art itself. If you like a piece of abstract art, search for it, and when you find something you like at a price you can afford, then you've found what you're looking for. The main concern when purchasing modern abstract art, or any art, online or offline, is whether you are paying the right amount for it. However, if you like the piece, want to buy it, and can afford it, then that's enough. Good abstract art is what you, as an individual, find affecting, joyful, or beautiful, and the right price for it is the amount you're willing to pay.
The internet has made significant progress on behalf of all art by allowing it to be valued according to what people are willing to pay for it, rather than what a select group of gallery owners insists they should pay. A great place to find modern abstract art, then, is the internet as a whole. Wherever you find the pieces you like, at a price you're willing to pay for them, that's where to go. With the entire web at your digital disposal, you have a vast hunting ground to explore.
That being said, some guidance is always helpful, so it's a good idea to look in places where the art is accurately represented and there are clear guarantees regarding delivery and returns. No thumbnail can fully capture a piece of modern abstract art, so you'll want to find a site that offers a satisfaction or money-back guarantee. However, online trading regulations generally mean that you can return anything you don't like upon receipt – so we're back to our original conclusion. Discover art online, and if the price is right, go for it.
Manuel Marino is a seasoned Senior Producer, Music Composer, and Artist with over a decade of experience. He specializes in branded entertainment across various mediums, including video games, films, and advertising campaigns. With 20+ years as a game music composer, Manuel has worked on numerous platforms, creating diverse orchestral soundtracks. HIRE ME