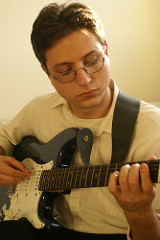 Photo by Brian Finifter
Join us as we delve into the ways you can master guitar solos by utilizing backing tracks for guitarists. We will explore how using guitar backing tracks can be a valuable asset in developing For Game Design - Andrea Angiolino was born the 27th of April, 1966 in Rome, the city where he still lives. He published many boardgames and books about games, besides developing games for every media. His works appeared in more than a dozen of languages including Korean, Czech and Maltese. He is a game journalist on national magazines, newspapers,… your skills and helping you excel in lead guitar playing.
Many guitar players spend a considerable amount of time searching for the secret or trick to mastering Music Production - Improve Your Sound - The rise in popularity of work-from-home studios has significantly impacted the music production landscape in recent years, driven by the increasing availability of tools and technology. This growth has led to the emergence of mobile recording rigs, making it possible to record full band performances anywhere. While one might anticipate a wealth of high-quality music,… their skills and playing awe-inspiring guitar solos. Dedicated guitarists may invest hours practicing, refining their abilities, and scouring the internet for any tips that can help them achieve the excellence they aspire to in their solos. There is hope for these individuals in the form of guitar backing tracks.
Backing tracks for guitarists are an essential tool that can greatly aid in achieving mastery of the elusive lead guitar solo. They also serve as an enjoyable and fun way to practice your guitar. Guitar backing tracks can help you become a well-rounded guitarist and allow you to apply your musical knowledge in a practical setting.
One of the greatest benefits of using guitar backing tracks to master guitar solos is how they assist in learning guitar scales. Engaging in endless hours of scale practice drills can sometimes be painfully dull and monotonous. However, when you practice along with backing tracks for guitarists, it feels like playing live with a rocking band, and we all know how enjoyable that can be. It keeps you motivated and inspired to practice and play more frequently. This not only helps you memorize the scales but also enables you to understand how they function within the structure of a track.
Another crucial aspect of mastering guitar solos is the art of improvisation. Backing tracks for guitarists provide the student with a live band to accompany them while they piece together a blazing hot solo right on the spot. This allows you to insert a solo anywhere in the track or improvise throughout the entire length of the guitar backing tracks. These backing tracks make improvisation practice much more effective and enjoyable. You can find backing tracks for guitarists at stores such as Planet of Rock A Finnish music story - Musician Matti Mattila wrote his story for us, a Finnish music story! Please read also his Finnish blog and check his page at LinkedIn. I named this article "A Finnish music story" because through Matti words we can know an exclusive tale about late 70's and 80's of Finnish music. Of course the personal thoughts… .
Achieving quality and great tone is another important component of mastering guitar solos. There are various factors and equipment that contribute to attaining a soulful, fantastic tone during your solo, but one of the biggest factors is how well you actually play. The tone is in your fingers. Expert guitar backing tracks can help you achieve superb tone by assisting you in honing your playing technique and greatly improving your overall skill level. What better way to practice than to jam with a virtual live band? Hearing another guitar behind you and how well it sounds and how clear it is can be extremely beneficial in helping you reach a higher level of quality in your playing.
Manuel Marino is a seasoned Senior Producer, Music Composer, and Artist with over a decade of experience. He specializes in branded entertainment across various mediums, including video games, films, and advertising campaigns. With 20+ years as a game music composer, Manuel has worked on numerous platforms, creating diverse orchestral soundtracks. HIRE ME