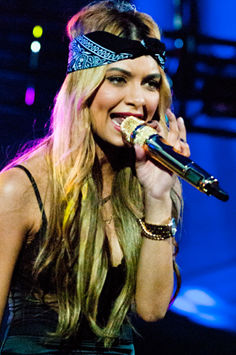 Born Angelique Meunier, Havana Brown is a Mauritian Australian DJ, singer, and dancer.
In 2008, Havana Brown joined Island Records Australia as a DJ after being scouted by the label's manager. She subsequently released her Crave compilation album New Album - Lost Island - I'm excited to announce the release of my latest Trance music album, "Lost Island". It's now available on various digital outlets worldwide, so you can easily find it by doing a quick search on any search engine! But if you're short on time and don't want to go through the hassle of searching, browsing, and… series, featuring various covers and inventive remixes. That same year, Brown supported Rihanna on the Australian leg of her Good Girl Gone Bad album tour. She later opened for the girl group the Pussycat Dolls during their Australian Doll Domination tour and Britney Spears on both the European and Australian segments of her Circus tour. Brown also supported Chris Brown on the Australian leg of his F.A.M.E. tour.
From 2009, Brown has been a DJ on the Australian statewide radio show, Party People, on the Today Network, airing every Saturday night. In 2011, she released her debut single, "We Run the Night," which became triple platinum certified by the Australian Recording Industry Association (ARIA) after selling 210,000 copies. Brown was nominated for Breakthrough Artist An Artist Portrait (Part One) - This is a fantastic article written exclusively for my Weblog by Frank V. Cahoj. Please feel free to comment here or send him emails. He'll be happy of this. An Artist Portrait (Part One) My name is Frank Cahoj and I have been an artist since I was born. I can say this in confidence without… Single and Highest Selling Single at the ARIA Music Awards. A remix of the track featuring rapper Pitbull was released in the U.S. in September, topping the U.S. Hot Dance Club Songs chart and reaching number 26 on the US Billboard Hot 100 chart. Her second single, "Get It," peaked at number 38 on the ARIA Singles Chart. Brown also toured with Enrique Iglesias for the Australian leg of his Euphoria tour in the same year.
In 2012, Brown released her debut EP, When the Lights Go Out, and made a guest appearance on the popular talent Marketing and Music: Is Marketing Really So Powerful That Any Song Can Become Famous? Or Does Talent Still Matter? - Today let's dive into a topic that's been buzzing around a lot: the relationship between marketing and music. We all know that marketing plays a massive role in the music industry, but does it actually hold the power to make any track a hit? Or does talent still stand a chance? First off, let's address… show America's Got Talent. She supported Pitbull on his Planet Pit World Tour and represented Australia at the first ABU TV Cereal, a blend of old and new - Today we interview Jaques Smit, an incredible man. Just read all his current positions: Managing Director at MindNova Advertising Pty (Ltd), Marketing Director at Inland Kitesurfing Pty (Ltd), CEO at Avonstorm Entertainment, Producer at Avonstorm Pictures Pty (Ltd), Technical Director at Blo-Tant Pty (Ltd). Here is the interview and I initially ask about Cereal, his… Song Festival in Seoul, South Korea. Brown released her third single from When the Lights Go Out, "Big Banana," featuring artists R3hab and Prophet of 7Lions. The track peaked at number 15 on the US Dance/Electronic Songs chart and number 2 on the ARIA Dance Single Chart in Australia, earning a gold certification from ARIA.
In 2013, Brown debuted her studio album, Flashing Lights, collaborating with Afrojack, Cassie Davis, and RedOne, among others. The album reached number six on the ARIA Albums Chart. One of the album's lead singles, "Warrior," was certified platinum after selling over 70,000 copies and was nominated for Song of the Year at the ARIA Music Awards. Brown performed the song as a musical guest on The X Factor Australia. In 2014, she released new material, including the songs "Whatever We Want," "Better Not Said," and "No Ordinary Love Artists Psychology - Here's an interesting exclusive article Roland d'Humières, 56 years old psycho-analyst from Aix en Provence (France) has written for our Weblog. I think it to be a very interesting writing about the artists psychology, or maybe "arts psychology", what's behind an artists mind. Artists Psychology Whatever is his/her Art, painting, music, dance, writing, or any… ." Brown supported Bruno Mars on his The Moonshine Jungle Tour in Las Vegas and was nominated for Best Australia Act at the MTV Europe Music Awards as well as World's Best Female Artist, World's Best Live Act, World's Best Entertainer of the Year, and World's Best Song (for "Warrior") at the World Music Awards.
Manuel Marino is a seasoned Senior Producer, Music Composer, and Artist with over a decade of experience. He specializes in branded entertainment across various mediums, including video games, films, and advertising campaigns. With 20+ years as a game music composer, Manuel has worked on numerous platforms, creating diverse orchestral soundtracks. HIRE ME