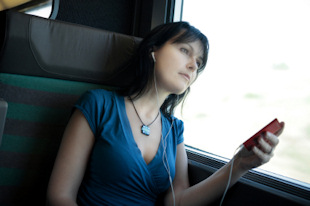 This article is written by web designer Josh Gutteridge who runs Skyte Media. Skyte Media is based in the Midlands (England) and is a professional web design company that specialises in web design and development. Josh would like to receive comments about this article on his blog. But of course you can comment it also here, on ManuelMarino.com!
How Has the Internet Affected the Music Industry?
Music has always been something that has inspired mankind. Sir Thomas Beecham once said 'a musicologist is a man who can read music but can't hear it'. The pure beauty of music is that we can all listen to the same notes played by many different instruments, yet make our own individual conclusions with regards to what the music means to us; and nobody can argue.
It is not in the nature of this post to go in depth on musical history. Nonetheless, music has developed rapidly through the ages with the vinyl when it was first really used in 1948 by Columbia Records. Since then the music industry What Is A Musician? - For some individuals, the role of a musician may be difficult to comprehend. They may struggle to understand: 1 - the nature of a musician's talent or job, 2 - why musicians work around the clock, and 3 - the concept of a fanbase and the boundaries musicians set with fans. Let's delve into each… has seen the use of the Audio-Cassette and Compact Disc (CD).
Consequently, since the internet became more widely available it has made music more easily accessed by such means as Online Music Stores. There are thousands of these stores online including three of the most famous: iTunes, Napster and Rhapsody (US only). Let's focus in on iTunes; an offshoot of the Apple Company.
I refer to iTunes as the 'pied piper of the 21st century' lulling people into easily downloading content with minimal hassle. iTunes is a free piece of software developed by the Apple company at Macworld Expo in San Francisco. This allows you to download digital music, music videos, television Cereal, a blend of old and new - Today we interview Jaques Smit, an incredible man. Just read all his current positions: Managing Director at MindNova Advertising Pty (Ltd), Marketing Director at Inland Kitesurfing Pty (Ltd), CEO at Avonstorm Entertainment, Producer at Avonstorm Pictures Pty (Ltd), Technical Director at Blo-Tant Pty (Ltd). Here is the interview and I initially ask about Cereal, his… shows, iPod games Darklands, a Classic RPG - I'll talk about Darklands, a Classic RPG in a moment. April is an excellent month to reflect on how the year is going and whether we have achieved all or some of the goals we set for ourselves (Read - Overcoming Procrastination). It's also a time to assess the overall positive or negative trend of… , audio books, various pod casts and in the USA feature length films, and ringtones. Downloaded content can then be used to create your own play lists and personalised albums to burn to CD. It can also be transferred onto various different types of iPod including the new iPhone making music more accessible and easy to get hold of.
How does this affect the ordinary person who enjoys listening to their preferred genre(s) of music?
In this case, music has never been so easily manipulated and accessible. We live in a convenience obsessed world with personalised portals such as Last FM where you can listen to any artist An Artist Portrait (Part One) - This is a fantastic article written exclusively for my Weblog by Frank V. Cahoj. Please feel free to comment here or send him emails. He'll be happy of this. An Artist Portrait (Part One) My name is Frank Cahoj and I have been an artist since I was born. I can say this in confidence without… known to mankind, you can listen to personalised internet radio with Pandora and also listen to all the music and view the videos on YouTube. It doesn't take much effort to rip music (ripping is the term for digital audio extraction). The cost of downloading an album New Album - Lost Island - I'm excited to announce the release of my latest Trance music album, "Lost Island". It's now available on various digital outlets worldwide, so you can easily find it by doing a quick search on any search engine! But if you're short on time and don't want to go through the hassle of searching, browsing, and… from the net is generally cheaper than an album brought in the shops, after all, downloads should cost less as there are less overheads for the record label to pay for: CD sleeve, CD case, CD cost, copying equipment etc.
How does this affect the music industry?
Some artists find the concept of the internet hard to adapt to; however, as they are forced into the mould of technology modern artists tend to embrace the internet as a friend rather than a foe. They view it as a 'creative and inspiration-enhancing workspace where they can communicate, collaborate, and promote their work' – Mary Madden (Research Specialist) in her project 'Artists, Musicians and the Internet'. Sites such as MySpace have helped Artists and Musicians address their target audience rousing more interest in their style of music.
But let's face it; there will always be people that are looking to find a loophole. I'm talking about those who engage in illegal music downloading. Experts admit that illegal downloads will never be stopped. This messes up the system and makes it unfair for both the artist and the people who are paying for downloads. The British Phonographic Industry (BPI) has joined forces with the Federation of Phonographic Industries (IFPI) to take legal action against internet file-sharers.
How will illegal downloader's effect record labels? A record label makes, distributes and markets sound recordings; basically at the end of the day they're out there to make money. The music industry produce mainly alums…how many albums have you brought just because you like one song? I have! We're forced to buy albums to get the songs we love. As sales figures are falling record labels will be forced to look at the logic. Are people going to buy a whole album or just download one song? What effects do you think this will bring? Might we see a rise in the cost of internet downloads?
So in conclusion we have seen that the music industry has created stronger ties with new technology over the past decades and now can only go forward. We have seen that internet music downloads can be both an advantage and a disadvantage as we see the battle between the illegal downloader and the record companies continues. However, it is safe to conclude people – adapt or die!
Manuel Marino is a seasoned Senior Producer, Music Composer, and Artist with over a decade of experience. He specializes in branded entertainment across various mediums, including video games, films, and advertising campaigns. With 20+ years as a game music composer, Manuel has worked on numerous platforms, creating diverse orchestral soundtracks. HIRE ME