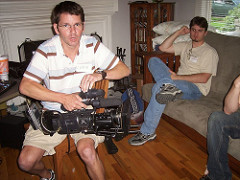 Photo by roadkillbuddha
It's no secret in the business or corporate world that utilizing a variety of different platforms is essential for advertising An Artist Portrait (Part One) - This is a fantastic article written exclusively for my Weblog by Frank V. Cahoj. Please feel free to comment here or send him emails. He'll be happy of this. An Artist Portrait (Part One) My name is Frank Cahoj and I have been an artist since I was born. I can say this in confidence without… one's company. Besides instructional videos, did you know that creative sound post-production can be used as an effective method for premier promotions? While it may not be as popular as other advertising tools, when executed correctly, it can be just as lucrative.
Now, you may be interested in learning tips and applications for sound marketing Marketing and Music: Is Marketing Really So Powerful That Any Song Can Become Famous? Or Does Talent Still Matter? - Today let's dive into a topic that's been buzzing around a lot: the relationship between marketing and music. We all know that marketing plays a massive role in the music industry, but does it actually hold the power to make any track a hit? Or does talent still stand a chance? First off, let's address… . If you have music or video projects to showcase, sound can definitely be one of the best mediums to utilize. However, simple sound alone may not be sufficient. If you want a more professional-looking project and want to ensure that you achieve great results, then creative sound post-production is the way to go. Many experts have tackled this challenge, and here are a couple of tips for using sound in your marketing efforts.
One option that bloggers are utilizing with great results is podcasts. You can effectively reach millions of listeners simultaneously through podcasts. Your topics are only limited by your creativity. Many of the top bloggers use some form of podcasts to extend their marketing efforts.
When your target market encounters your content through the airwaves, your sound production needs to be on point because every second counts. You only have a few seconds to win over new customers, and every second counts! Utilizing creative sound post-production techniques gives you the advantage of reaching new customers and impressing them to the point where they can't help but do business with you.
When it comes to creative sound post-production, finding reliable technicians is now easier with many websites dedicated to freelancers. Even smaller businesses can hire freelancers who can work within their budget to get the project done.
A top-notch engineer will ensure that your campaign runs smoothly without any hitches. That's why it's crucial to seek out the best. Outsource to a professional who has an ear and an eye for your business, respects your input and insights.
Unfortunately, there is always a possibility that you may come across someone who is less than professional. Remember, you are the boss! If you have a hunch that someone is not up to par, don't work with them!
In addition to finding someone who is technically skilled, make sure the individual has the necessary software and equipment to complete the project. The bottom line is this: even the best of ideas can flounder when implemented improperly. Undoubtedly, high-caliber creativity comes into play when business owners utilize creative sound post-production as a tool to expand their horizons.
Manuel Marino is a seasoned Senior Producer, Music Composer, and Artist with over a decade of experience. He specializes in branded entertainment across various mediums, including video games, films, and advertising campaigns. With 20+ years as a game music composer, Manuel has worked on numerous platforms, creating diverse orchestral soundtracks. HIRE ME