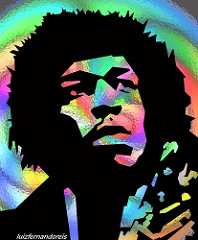 Photo by Luiz Fernando / Sonia Maria
The history of rock A Finnish music story - Musician Matti Mattila wrote his story for us, a Finnish music story! Please read also his Finnish blog and check his page at LinkedIn. I named this article "A Finnish music story" because through Matti words we can know an exclusive tale about late 70's and 80's of Finnish music. Of course the personal thoughts… and roll music boasts a multitude of influential figures who have left their mark on our musical tastes, but one of the most significant musicians in history is Jimi Hendrix. While many are familiar with songs like "Hey Joe" or "Little Wing," experts can attest that Hendrix's impact on music is immense. His mere presence alone served as an influence, helping solidify the prominence of the psychedelic movement among younger generations.
Understanding why he attained such fame and achieved monumental success is not difficult. He pioneered psychedelic music and attitude, leaving an indelible mark not only on aspiring musicians but on the entire music landscape. His major influences included Miles Davis and various blues singers, which led to the birth of the modern musical genres of jazz-funk and fusion. Hendrix aspired to create a seamless fusion of soul The Annals Of Blues Guitar - The blues is a genre of music that can be vocal, instrumental (blues guitar), or both. It primarily uses the 'blue' notes, which are based on a 'minor pentatonic' scale, also known as the blues scale. Blues music originated in African-American communities in the U.S., drawing from work songs, spirituals, field hollers, chants, shouts, and… , jazz, blues, and rock, erasing boundaries between music genres and people.
Jimi Hendrix's path was a winding one, making his persona even more impressive and iconic. He experienced a tumultuous and somewhat unhappy childhood, and the guitar he received at the age of 15 became his closest companion. He absorbed diverse styles, and their languages became part of his vocabulary—a creative and unprecedented one, brimming with vividness and vitality. His technical prowess and boundless imagination allowed him to revolutionize rock 'n' roll with unconventional distortions and unique sound effects.
Above all, Jimi Hendrix possessed the unparalleled ability to extract the fullest range of sounds from an electric instrument. His music incorporated key musical currents such as free jazz, delta blues, acid rock, R&B, soul, and hardcore funk. In terms of lyrics, he found inspiration in the likes of Bob Dylan and The Beatles. Despite these myriad influences, his music remains incomparable and retains its authentic and distinctive quality.
Throughout his musical career Darklands, a Classic RPG - I'll talk about Darklands, a Classic RPG in a moment. April is an excellent month to reflect on how the year is going and whether we have achieved all or some of the goals we set for ourselves (Read - Overcoming Procrastination). It's also a time to assess the overall positive or negative trend of… , Hendrix experimented with a plethora of guitars, trying out various brands. The choice of instrument holds great significance for a musician What Is A Musician? - For some individuals, the role of a musician may be difficult to comprehend. They may struggle to understand: 1 - the nature of a musician's talent or job, 2 - why musicians work around the clock, and 3 - the concept of a fanbase and the boundaries musicians set with fans. Let's delve into each… as it contributes to the unique sound of their music. If you have ever dreamt of becoming a musician or are interested in playing the guitar, the first step is to visit a guitar store and "try on" some guitars.
Manuel Marino is a seasoned Senior Producer, Music Composer, and Artist with over a decade of experience. He specializes in branded entertainment across various mediums, including video games, films, and advertising campaigns. With 20+ years as a game music composer, Manuel has worked on numerous platforms, creating diverse orchestral soundtracks. HIRE ME