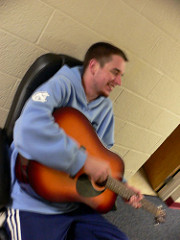 Photo by Scuddr
When a person decides to learn the guitar, one of their main concerns is how to get started. Often, people give up on their dream of becoming a guitar player because they don't know the proper way to begin. They may not know where to look or what to consider.
For many, the idea of learning to play the guitar can seem intimidating. However, the truth is that learning to play the guitar is not daunting at all. In fact, it's quite the opposite.
There are numerous ways to learn the guitar, and it has never been easier or more accessible to aspiring guitarists. You just need to know where to look and what to look for. Once you have the right resources, you'll be playing the guitar in no time.
The best way to learn the guitar is through a teacher or instructor. One-on-one lessons can help you grasp the techniques of learning at a faster rate and allow you to progress more effectively.
If you are on a tight budget and can't afford a teacher, the internet is the next best option. Learning on your own through online resources is a viable alternative.
There are many websites today that provide excellent guitar lessons. These online guitar lessons offer valuable information and guidance right from the comfort of your own home, as long as you have internet access and a computer Yestel Tablet - Thursday, approaching the End of the Week: Yestel tablet. As the week draws to a close, an unfortunate incident occurred - my son accidentally broke his tablet. In search of a replacement, I turned to Amazon and discovered an exceptional find. Introducing Yestel Tablet: A Remarkable Tablet Brand The tablet I came across was from… .
These lessons can also help you improvise and play songs by ear. Some websites break down songs into smaller parts, making it easier for learners to practice and eventually put all the parts together.
Now that you know where to find guitar learning resources, I suggest you start searching the internet for the best online guitar lessons that suit your preferences.
Remember, there are reputable websites that offer comprehensive lessons for both advanced players and beginners who are just starting out.
In conclusion, learning the guitar is not a daunting task. Resources for learning the guitar are readily available. So, start pursuing your dream of becoming a guitarist today.
Manuel Marino is a seasoned Senior Producer, Music Composer, and Artist with over a decade of experience. He specializes in branded entertainment across various mediums, including video games, films, and advertising campaigns. With 20+ years as a game music composer, Manuel has worked on numerous platforms, creating diverse orchestral soundtracks. HIRE ME