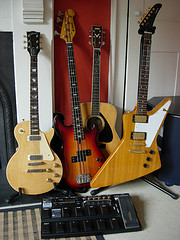 by
steve_cx
So, you've decided that you want to learn to play the guitar! However, it may seem quite intimidating at first. Gazing at the guitar, you might not have a clue what to do with it! Now is the time to cast aside your fears and pursue your dream of becoming a guitarist.
The first step is to determine your motivation The Importance of Having a Goal in Life and Why Music is a Harmonious Objective - Having a goal in life is essential for many reasons. It provides a sense of direction, drives motivation, enhances focus, and contributes to personal satisfaction. An aim or target in life helps one to streamline their energy, thoughts, and efforts towards achieving something specific. Without an objective, life can feel aimless and unsatisfying, and individuals… for wanting to learn the guitar. Identifying your goals will help you remain committed to them. Many people express an interest in playing the guitar but never actually follow through or quickly give up and move on to something else. Understanding your reasons for wanting to play the guitar will help you stay focused and improve as a player.
Once you've established your goals, it's time to think about acquiring the necessary equipment. You'll need some guidance, as there is a wide variety of guitars to choose from. However, don't let the options overwhelm you. A simple acoustic guitar How to Buy a Guitar - The guitar is known for its dynamic and unique sound, making it a popular instrument in various genres of music. Whether you're a beginner or someone with a growing passion for guitar playing, here are some top tips for buying a guitar: Seek out advice. Start by seeking guidance from someone you know who has… is all you need to get started. Additional tools like an electronic New Album - Lost Island - I'm excited to announce the release of my latest Trance music album, "Lost Island". It's now available on various digital outlets worldwide, so you can easily find it by doing a quick search on any search engine! But if you're short on time and don't want to go through the hassle of searching, browsing, and… tuner can be immensely helpful.
Of course, after obtaining your equipment, you'll need to take lessons to learn how to play. Many people hesitate at this thought, as hiring a private instructor can be quite expensive. While there may be classes in your area, they can also be costly, and you might not have the time to travel to and from them consistently. For many, a better approach is self-teaching, which can be easier said than done—unless you have the right course.
A common mistake is to pick up a basic book For Game Design - Andrea Angiolino was born the 27th of April, 1966 in Rome, the city where he still lives. He published many boardgames and books about games, besides developing games for every media. His works appeared in more than a dozen of languages including Korean, Czech and Maltese. He is a game journalist on national magazines, newspapers,… on guitar playing or a single instructional video and expect to become proficient immediately. It takes more than that! Fortunately, there are many excellent online guitar tutoring options that could work well for you.
The reason online guitar learning is so effective is that it incorporates various learning modalities. You can read materials, watch videos, and listen to audio recordings. Additionally, interactive software helps ensure the information sinks in. It's also worth noting that the best online courses won't cost you a fortune. They are comprehensive and can quickly propel you into the world of becoming a skilled and accomplished guitarist.
Manuel Marino is a seasoned Senior Producer, Music Composer, and Artist with over a decade of experience. He specializes in branded entertainment across various mediums, including video games, films, and advertising campaigns. With 20+ years as a game music composer, Manuel has worked on numerous platforms, creating diverse orchestral soundtracks. HIRE ME