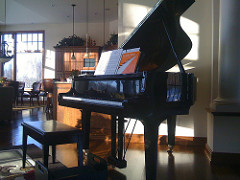 by
t.spang
Piano sheets are fundamental elements for learning the piano. If you are interested in mastering Music Production - Improve Your Sound - The rise in popularity of work-from-home studios has significantly impacted the music production landscape in recent years, driven by the increasing availability of tools and technology. This growth has led to the emergence of mobile recording rigs, making it possible to record full band performances anywhere. While one might anticipate a wealth of high-quality music,… this musical instrument, it is essential to learn how to read piano sheets specifically designed for piano.
Before you can play the piano in its simplest form, you need to understand how to read piano sheets in their true sense. Having the knowledge and skills to read these sheets will enable you to easily grasp the symbols and notes of a particular song, making it easier to understand the melody and play it correctly.
Reading piano sheets can be a daunting experience for beginners, as it requires a step-by-step process and adherence to specific rules to effectively gain the knowledge and skills needed to read music sheets for piano.
First, familiarize yourself with the keys of a piano by carefully examining each key and its corresponding function related to the notes. Once you have become acquainted with the white and black keys, learn how they work together to create a melody on the piano.
Next, understand the musical notes and symbols. This should be done attentively and consistently. Keep in mind Self-realization and meditation (yoga for the mind) - Peter Cajander allowed us to publish this part from his book Fragments of Reality. It talks about life from a personal perspective covering areas ranging from self-realization, meditation, stress, happiness, death, and everyday living. Peter is a writer, philosophical thinker, entrepreneur, strategy consultant, business executive, and author to name a few titles. He has been… that having a thorough understanding of musical symbols and notes will make it easier to learn and read piano sheets. If you are unfamiliar with staff and half notes and their relevance to G-clefs, you will struggle to comprehend more complex music sheets designed for piano.
It is also important to pay attention to other essential aspects of a musical composition, such as changes in tempo and volume. Being aware of these elements will help you know when to play a faster tone and hit the correct keys, ensuring the piece is played accurately.
Fortunately, many piano sheets today are simplified and easier to read compared to traditional masterpieces by composers like Beethoven. This makes it more accessible for beginners and ordinary music enthusiasts who want to experience reading and playing piano sheets.
Manuel Marino is a seasoned Senior Producer, Music Composer, and Artist with over a decade of experience. He specializes in branded entertainment across various mediums, including video games, films, and advertising campaigns. With 20+ years as a game music composer, Manuel has worked on numerous platforms, creating diverse orchestral soundtracks. HIRE ME