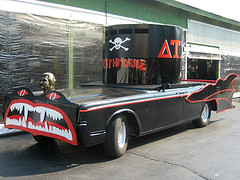 by
skeggy
Driven by his ambition for wealth, Fletcher Reede (Jim Carrey) is willing to do whatever it takes to become a partner at his law firm and win his cases. When one of the firm's partners, Miranda (Amanda Donohoe), recognizes Reede's ability to lie to win cases, she assigns him a high-profile divorce case. Unfortunately, the court date coincides with his son Max's (Justin Cooper) birthday party. Lately, Fletcher has been neglecting his son as his work takes precedence, but he promises to attend Max's party.
Attempting to move on after their divorce, Fletcher's ex-wife Audrey (Maura Tierney) begins a relationship with Jerry (Cary Elwes). Although their relationship lacks excitement, Jerry proves to be an excellent father figure for Max.
Samantha Cole (Jennifer Tilly) is impressed with Fletcher during their meeting about her divorce case, and Miranda promises him a partnership if he wins the case. Miranda becomes infatuated with Fletcher and seduces him, causing him to miss his son's birthday party.
Disappointed with his father, Max makes a wish that Fletcher cannot tell a lie for an entire day. The granted wish turns Fletcher's world upside down, as he must tell the truth to everyone he encounters. Samantha's court case becomes challenging, as Fletcher realizes he's defending someone dishonest. He tries multiple times to postpone the trial but cannot lie about his reasons.
The silver lining of Fletcher's day of honesty is that he discovers how much he truly loves his son. Due to his neglect, Audrey decides to move to Boston with Jerry and take Max with her. In a hilarious scene, Fletcher makes a final attempt to show Cereal, a blend of old and new - Today we interview Jaques Smit, an incredible man. Just read all his current positions: Managing Director at MindNova Advertising Pty (Ltd), Marketing Director at Inland Kitesurfing Pty (Ltd), CEO at Avonstorm Entertainment, Producer at Avonstorm Pictures Pty (Ltd), Technical Director at Blo-Tant Pty (Ltd). Here is the interview and I initially ask about Cereal, his… his son how much he means to him.
For a heartwarming story An Artist Portrait (Part Two) - This is the Part Two (and final part) of the true life story as artist written by Frank V. Cahoj for our Weblog. (Part One) An Artist Portrait (Part Two) I give an unbelievable amount of credence to these two early periods in my life: one of everlasting creation, one of analysis and disillusionment. The… and plenty of laughs, check out "Liar Liar." The film delivers a powerful message, and the characters are well-cast. As one of Jim Carrey's funnier comedies, "Liar Liar" showcases his physical comedy skills, and the combination of Tierney, Carrey, and Cooper creates an excellent family comedy team. Justin Cooper was even nominated for a Young Artist An Artist Portrait (Part One) - This is a fantastic article written exclusively for my Weblog by Frank V. Cahoj. Please feel free to comment here or send him emails. He'll be happy of this. An Artist Portrait (Part One) My name is Frank Cahoj and I have been an artist since I was born. I can say this in confidence without… Award for his role as Max.
Manuel Marino is a seasoned Senior Producer, Music Composer, and Artist with over a decade of experience. He specializes in branded entertainment across various mediums, including video games, films, and advertising campaigns. With 20+ years as a game music composer, Manuel has worked on numerous platforms, creating diverse orchestral soundtracks. HIRE ME