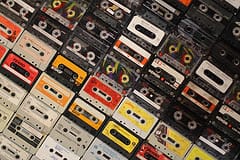 Photo by Yohan Creemers
Over the past decade, there has been a significant shift in how people consume and enjoy their favorite music, largely due to advances in technology that make it easier to access and listen to popular songs on the go. As William Shakespeare famously wrote in Twelfth Night, "If music be the food of love, play on." The mobile music industry What Is A Musician? - For some individuals, the role of a musician may be difficult to comprehend. They may struggle to understand: 1 - the nature of a musician's talent or job, 2 - why musicians work around the clock, and 3 - the concept of a fanbase and the boundaries musicians set with fans. Let's delve into each… continues to innovate and provide listeners with new ways to incorporate a personal soundtrack into their daily lives.
There are numerous methods for people to enjoy music on their mobile devices, either for free or by purchasing albums online. Mobile devices have been designed to download and play entire albums, create playlists, or sync with speakers and sound systems for immersive audio experiences at home or work. Online stores offer mobile users the opportunity to buy full albums or individual songs, which can be enjoyed through headphones or the device's speakers.
Mobile game soundtracks have also been improved by cutting-edge built-in speakers and sound cards. Even engaging online casino games Darklands, a Classic RPG - I'll talk about Darklands, a Classic RPG in a moment. April is an excellent month to reflect on how the year is going and whether we have achieved all or some of the goals we set for ourselves (Read - Overcoming Procrastination). It's also a time to assess the overall positive or negative trend of… , such as slots at www.mobileslots.net, provide realistic and authentic sound effects Bass Guitar Pedals Are Effective - Guitar Pedals: Roland GR-55GK Bass guitar pedals work wonders, practically speaking. Effects pedals for electric bass guitars are excellent for bassists looking to take their playing to another level while having fun experimenting with a wide range of different sounds. In the past, effects pedals, or stompboxes as some like to call them, were made exclusively… . In the 1980s Apes Strumming The Guitar - I'm not one to dwell on the past, but I must admit that music from the synthpop era of the 1980s and surrounding years holds a special place in my heart. Perhaps I'm biased, but I can't help but feel that modern music has lost a lot of its originality and creativity. Gone are the… and 1990s, Walkmans played cassette tapes and Discmans played CDs. Then, in the 2000s, iPods and mini MP3 players revolutionized the music industry with their large storage capacities and ability to play thousands of songs across genres. Today, smartphones and tablet Yestel Tablet - Thursday, approaching the End of the Week: Yestel tablet. As the week draws to a close, an unfortunate incident occurred - my son accidentally broke his tablet. In search of a replacement, I turned to Amazon and discovered an exceptional find. Introducing Yestel Tablet: A Remarkable Tablet Brand The tablet I came across was from… computers have made separate music players obsolete, as most mobile devices now integrate a comprehensive multimedia platform into their designs.
This mobile generation has dramatically impacted the music world, virtually eliminating the need for CDs and causing a decline in hi-fi and sound system sales. Numerous prominent music stores, including the renowned UK store HMV, have closed their doors, unable to compete with the convenience and user-friendliness of music downloads on mobile devices. Almost any genre can be downloaded online, providing access to an extensive music library that would be impossible for a single store to stock. The cost of music downloads is often much lower, and many bands release albums or singles for free, making new music more accessible and thrilling than ever before.
Manuel Marino is a seasoned Senior Producer, Music Composer, and Artist with over a decade of experience. He specializes in branded entertainment across various mediums, including video games, films, and advertising campaigns. With 20+ years as a game music composer, Manuel has worked on numerous platforms, creating diverse orchestral soundtracks. HIRE ME