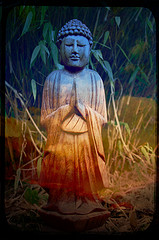 Photo by AlicePopkorn
Sound and music have a tremendous impact on the body and mind, and this fact is well-documented. Music is often chosen as a means to activate our inner vitality and is utilized in various mind-body programs. However, don't worry if you're unsure about what type of music you should listen to in order to achieve your goals. I will explain how the power of sound can transform your life An Artist Portrait (Part Two) - This is the Part Two (and final part) of the true life story as artist written by Frank V. Cahoj for our Weblog. (Part One) An Artist Portrait (Part Two) I give an unbelievable amount of credence to these two early periods in my life: one of everlasting creation, one of analysis and disillusionment. The… .
While there is much we still don't know about music and its effects on the body, we have some understanding of the mechanisms through which sound can bring about positive changes. For instance, it can reduce levels of stress Self-realization and meditation (yoga for the mind) - Peter Cajander allowed us to publish this part from his book Fragments of Reality. It talks about life from a personal perspective covering areas ranging from self-realization, meditation, stress, happiness, death, and everyday living. Peter is a writer, philosophical thinker, entrepreneur, strategy consultant, business executive, and author to name a few titles. He has been… hormones like adrenaline and has a calming effect on the limbic system, a group of brain structures that regulate emotions Artists Psychology - Here's an interesting exclusive article Roland d'Humières, 56 years old psycho-analyst from Aix en Provence (France) has written for our Weblog. I think it to be a very interesting writing about the artists psychology, or maybe "arts psychology", what's behind an artists mind. Artists Psychology Whatever is his/her Art, painting, music, dance, writing, or any… .
Personally, I have listened to two types of music: classical music and Solfeggio harmonics. These have completely transformed my life and helped me become a happier individual. First, let me tell you about classical music. Naturally, I gravitated towards it because it had a soothing effect on me. My daily routine would always start with listening to my favorite tracks. Over time, the music became a comforting, relaxing, and inspiring part of my day. I would often listen to the same piece of music multiple times.
I was thrilled with the results, and one day I decided to delve deeper into the world of sound. While exploring music, I came across the Solfeggio frequencies. It is believed that these sound frequencies can bring about physical and mental tranquility for those who listen to them. There are six primary frequencies, each with its own unique qualities and powers. Thanks to Solfeggio music, I have experienced different dimensions of my existence. This music has enhanced my memory, helped alleviate insomnia, and boosted my creativity An Artist Portrait (Part One) - This is a fantastic article written exclusively for my Weblog by Frank V. Cahoj. Please feel free to comment here or send him emails. He'll be happy of this. An Artist Portrait (Part One) My name is Frank Cahoj and I have been an artist since I was born. I can say this in confidence without… .
Nowadays, I predominantly listen to Solfeggio harmonics. They have helped me develop positive habits and become successful in various aspects of my life. I am confident that this music can also help you become the person you aspire to be.
Manuel Marino is a seasoned Senior Producer, Music Composer, and Artist with over a decade of experience. He specializes in branded entertainment across various mediums, including video games, films, and advertising campaigns. With 20+ years as a game music composer, Manuel has worked on numerous platforms, creating diverse orchestral soundtracks. HIRE ME