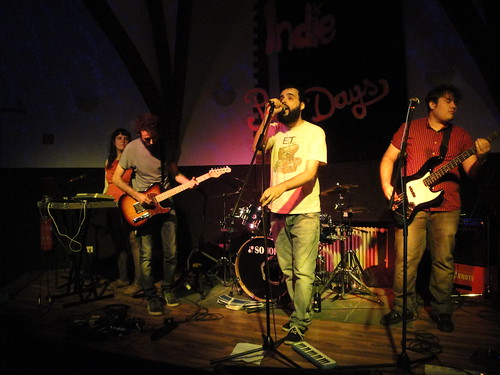 Emil Svanängen is a one-man home-recording sensation and a renowned multi-instrumentalist. In his small Stockholm apartment, he works and records his music, crafting precious pop gems. As a result, he has sold numerous copies of his first three albums on his website, on CD-R, and through various mp3 blogs. The singer goes by the enigmatic pseudonym Loney, Dear, and is an endearing geek whose folk-jazz sound is irresistibly charming.
In 2007, the American indie label Sub Pop Records released Svanängen's first studio album, titled Loney, Noir. His fractured, captivatingly yearning, and almost quivering high-pitched voice is bewitching. He sings wholeheartedly about relationships, love found, and love lost, with deep emotion.
The album begins with the gentle and delicate "Sinister in the State of Hope". It is followed by the more upbeat and catchier "I'm John", which may be the best track for newcomers to Svanängen's music. It is a lovely piece that starts earnestly and builds up to a thrilling third part, where the pace quickens with the reverberation of the clarinet and drums, combined with powerful tenor vocals. It then swirls for a while before fading out with the soft clicking of drumsticks.
The song "Carrying a Stone" is considered a hidden masterpiece. Solemn yet hopeful, the track feels like the sound of sunlight breaking through. Like light gradually streaking across the sky, the song begins on a steady yet swift note that gains momentum as Svanängen hums in the background, building to a crescendo before exploding and fading with the reverberation of drums, organs, horns, and vibrant woodwinds. Other captivating tracks include "I'm the Odd One" and "Saturday Waits", which are both wide-eyed and innocent in their style of presentation.
Loney, Noir is an uplifting and exhilarating album to listen to. It tugs at your heartstrings as Loney, Dear shares with you the full spectrum of love, joy, and heartache. Each song starts quietly with just a guitar and vocals, then swells beautifully with the synchronization of hand claps, pump organs, and melodies that are simultaneously sparkling and melancholic. Loney, Dear is an indie music artist who breathes fresh air into the genre, and his album is as stylish and captivating as a glorious summer day captured in a Lomo photograph.
pe". The track is followed closely by an even more cheerful, the catchier "Im John", which will be possibly the most readily useful track for Svanängen beginners. It is considered an attractive piece that starts sincerely
and accumulates just into the third component where all of the exciting occurs. The rate quickens aided by the reverb of this clarinet and drums coupled with inspiring great tenor vocals. Before it fades using smooth clacking of the drumsticks, it swirls for a good little bit.
The tune, Carrying a Stone, is generally accepted as a concealed masterwork. Solemn yet promising, the track appears such as the noise of sunlight breaking. Much like the light that slowly streaks the sky, the noise starts on a reliable yet quick observe that gains musical drive as Svanängen hums to a crescendo in the background until it explodes and fades with
the reverberation of drums, body organs,  horns, and vibrant woodwinds. Other songs that are captivating tend to be Im the Odd One
and Saturday Waits, which can be accepted as wide-eyed and innocent in style of presentation.
Loney, Noir is a lifting and exhilarating album New Album - Lost Island - I'm excited to announce the release of my latest Trance music album, "Lost Island". It's now available on various digital outlets worldwide, so you can easily find it by doing a quick search on any search engine! But if you're short on time and don't want to go through the hassle of searching, browsing, and… to hear. Ponder over it because tugs at your heartstrings. Loney, Dearshares to you all of the kindness of love Artists Psychology - Here's an interesting exclusive article Roland d'Humières, 56 years old psycho-analyst from Aix en Provence (France) has written for our Weblog. I think it to be a very interesting writing about the artists psychology, or maybe "arts psychology", what's behind an artists mind. Artists Psychology Whatever is his/her Art, painting, music, dance, writing, or any… , delight , as well as heartache with a track record that starts calmly using just the electric guitar How to Buy a Guitar - The guitar is known for its dynamic and unique sound, making it a popular instrument in various genres of music. Whether you're a beginner or someone with a growing passion for guitar playing, here are some top tips for buying a guitar: Seek out advice. Start by seeking guidance from someone you know who has… and sound until it swells happily aided by the synchronization of hand claps, pump body organs , and melodies which can be at a time sparkling and melancholy. Loney

, Dear aswell known is an indie songs artis tthat breath fresh air along with his album is as fashionable and attractive as a wonderful summer day blast with Lomo.
Manuel Marino is a seasoned Senior Producer, Music Composer, and Artist with over a decade of experience. He specializes in branded entertainment across various mediums, including video games, films, and advertising campaigns. With 20+ years as a game music composer, Manuel has worked on numerous platforms, creating diverse orchestral soundtracks. HIRE ME