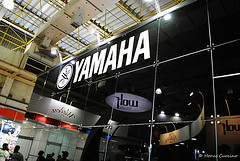 Photo by HorusCurcino
If you share my passion for music, you'll absolutely adore the Yamaha Tyros workstation – Yamaha's ultimate all-around, top-of-the-line keyboard, favored by professionals. I had the opportunity to try one out at my local music store recently, and I must say, the Yamaha Tyros 4 keyboard is simply amazing. I can't wait to get my hands on one as soon as possible. Let's delve into the Tyros 4 Software in more detail.
In addition to boasting all the features you'd expect from a high-end keyboard, the Yamaha Tyros 4 comes with a large display screen with video output, an Internet Direct Connection, and some truly impressive software. It also looks incredibly sleek. With over 500 voices, 400 different styles, and multi-pads, the cutting-edge Yamaha Tyros keyboard offers an overwhelming amount of choices. And the best part? It's highly portable as well.
One of the most impressive technologies on the Yamaha Tyros keyboard is the remarkable Mega Voices feature. This innovative software takes realistic musical sounds to new heights. For instance, if you play the guitar on your Yamaha Tyros keyboard, you'll experience all the subtle in-between nuances that a real guitar produces. The plucking of the strings, the vibrations, and even the strumming sounds – it's all there.
For serious pianists, having a keyboard that replicates the sound of an actual piano is crucial. The Tyros utilizes the same software as the Clavinova to deliver incredibly authentic piano sounds. It can be quite challenging to distinguish between the sound produced by this workstation and that of a traditional piano. Moreover, there's a wide selection of other realistic instrument sounds to choose from, including woodwinds and percussion, providing you with the flexibility to create fully orchestrated compositions.
However, the range of sounds is not limited to what's already programmed into the keyboard. The Yamaha Tyros workstation's Custom Voice Creation An Artist Portrait (Part Two) - This is the Part Two (and final part) of the true life story as artist written by Frank V. Cahoj for our Weblog. (Part One) An Artist Portrait (Part Two) I give an unbelievable amount of credence to these two early periods in my life: one of everlasting creation, one of analysis and disillusionment. The… feature allows you to record any sound and transform it into a brand-new voice, allowing your music to venture into uncharted territory. What's more, the Yamaha Tyros keyboard doubles as a mixing Music Production - Improve Your Sound - The rise in popularity of work-from-home studios has significantly impacted the music production landscape in recent years, driven by the increasing availability of tools and technology. This growth has led to the emergence of mobile recording rigs, making it possible to record full band performances anywhere. While one might anticipate a wealth of high-quality music,… desk. You can effortlessly blend 16 tracks using a comprehensive range of effects, achieving a truly professional sound with some impressive mixing capabilities. Tyros 4 Software is perfect for any occasion.
Despite being packed with a multitude of features and appearing complex, the Yamaha Tyros keyboard is actually user-friendly and easy to navigate. For example, if you want to record your sounds, simply press the record button and you're done. Connecting external devices to the workstation is a breeze as well. You can effortlessly establish a wireless connection to the internet or your computer Yestel Tablet - Thursday, approaching the End of the Week: Yestel tablet. As the week draws to a close, an unfortunate incident occurred - my son accidentally broke his tablet. In search of a replacement, I turned to Amazon and discovered an exceptional find. Introducing Yestel Tablet: A Remarkable Tablet Brand The tablet I came across was from… . For music storage, there's a built-in hard drive, and you can easily transfer your sound and MIDI files to your computer for editing with your favorite software.
Manuel Marino is a seasoned Senior Producer, Music Composer, and Artist with over a decade of experience. He specializes in branded entertainment across various mediums, including video games, films, and advertising campaigns. With 20+ years as a game music composer, Manuel has worked on numerous platforms, creating diverse orchestral soundtracks. HIRE ME