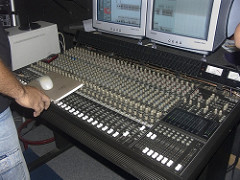 Photo by baldguitars
When searching for high-quality music recording equipment, it is important to look for devices that offer excellent sound output. There are many products available that provide good sound quality, but choosing among the wide range of options can be challenging.
If you are planning to record in a home studio Music Production - Improve Your Sound - The rise in popularity of work-from-home studios has significantly impacted the music production landscape in recent years, driven by the increasing availability of tools and technology. This growth has led to the emergence of mobile recording rigs, making it possible to record full band performances anywhere. While one might anticipate a wealth of high-quality music,… , you will need suitable music recording equipment. The equipment used for recording in a studio setting may not be suitable for outdoor use. If you are starting a studio, it is advisable to invest in the best available equipment. Purchasing high-quality equipment initially will help you avoid complications in the later stages.
By investing in the best equipment, you will be set for many years to come with minimal or no issues. On the other hand, if you purchase low-quality equipment, you may encounter numerous disappointments in the future.
One of the best types of sound equipment available is digital music recording equipment. However, this type of equipment can be expensive. When purchasing new equipment, you may need to spend hundreds to thousands of dollars, but it will be worth it. Online stores are a great place to look for such equipment. They can provide you with the necessary tools and equipment you need.
In times when finances are tight, you may not be able to afford brand-new equipment. In such cases, utilize the resources available to you and consider purchasing used equipment. Many used items are of good quality, so you should not be too disappointed, especially considering the money you will save.
It is always important to read reviews and check customer feedback before purchasing recording systems. For a studio, you will need various items, including microphones, mixers, workstations, multi-track recorders, studio racks, studio signal processors, and more.
Having the best and most reliable music recording equipment will help you thrive in the industry and build a reputation and recognition. It is crucial to start your music recording business with the best equipment available.
If you decide to purchase from a local store, make sure to gather all the necessary information about the products you plan to buy. It is essential to ensure that the recording quality is satisfactory and that the equipment will help you produce the best sound. Products such as the Sony C800 condenser microphone and Logic Pro digital audio workstation are highly efficient and offer excellent quality for recording. Choose the best options available, and your business will thrive with exceptional sound quality for as long as you provide it.
Manuel Marino is a seasoned Senior Producer, Music Composer, and Artist with over a decade of experience. He specializes in branded entertainment across various mediums, including video games, films, and advertising campaigns. With 20+ years as a game music composer, Manuel has worked on numerous platforms, creating diverse orchestral soundtracks. HIRE ME