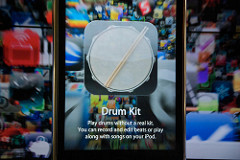 Photo by Steve Rhodes
Do you own an iPhone and have a passion for creating music? Then you might want to explore some of the iPhone apps Yestel Tablet - Thursday, approaching the End of the Week: Yestel tablet. As the week draws to a close, an unfortunate incident occurred - my son accidentally broke his tablet. In search of a replacement, I turned to Amazon and discovered an exceptional find. Introducing Yestel Tablet: A Remarkable Tablet Brand The tablet I came across was from… designed for musicians. While there are numerous apps in this category, the quality varies from amazing professional-level tools to toy-like apps that are not even worth their 99-cent price tag.
To save time and money, it's best to avoid anything that falls short of excellence. Here is a list of the best iPhone apps for musicians, offering limitless creative expression and the opportunity to receive feedback from other members of the iPhone community.
Ocarina – This was one of the first true musical instrument apps for the iPhone. With Ocarina, you can blow into the microphone, tilt the phone, or use the touch screen to create music. You can even share the music you make with people around the world and receive valuable feedback on your compositions while also commenting on other Ocarina users' tunes.
Pocket Guitar – Few music apps are as entertaining as Pocket Guitar. It transforms your device into a realistic guitar, allowing you to pluck strings using the touch screen. You can choose from acoustic, electric, classical, muted, or electric bass Learning to Enjoy Bass Guitar - Do you enjoy bass guitar? A bass guitar is a four-stringed instrument that typically accompanies a lead guitar. Some bass guitars have additional strings, with 5 or 6 strings in total. Bass guitars produce lower tones, and an electric bass guitar is connected to an amplifier for enhanced sound. When learning to play the bass… guitars, and there is a vast selection of sound effects and tuning options. This is undoubtedly one of the top iPhone apps for musicians to have on hand.
Finger Piano – Have you ever wanted to play the piano? Why bother with lessons or investing in a piano when you can have Finger Piano? This app teaches you how to play specific melodies by displaying the correct keys to press. It comes with over 50 built-in songs and features a full piano that can be split, allowing other users of the app to play along with you.
Drum Kit – If you have a passion for drums, then Drum Kit is a must-have app. You can activate a drum or cymbal by tapping its picture on your iPhone, watch it light up, and listen to 16-bit sound samples. But why play drums alone when you can play with a friend? Drum Kit is designed for two people to collaborate and create music together. It's a fun app suitable for drummers and non-drummers alike.
Glee – Singers Wanted – Glee is the current popular "it" app, captivating not just musicians but everyone. Amateurs love Artists Psychology - Here's an interesting exclusive article Roland d'Humières, 56 years old psycho-analyst from Aix en Provence (France) has written for our Weblog. I think it to be a very interesting writing about the artists psychology, or maybe "arts psychology", what's behind an artists mind. Artists Psychology Whatever is his/her Art, painting, music, dance, writing, or any… it because the app can automatically harmonize and improve the pitch of their voice based on the song they sing. Professionals enjoy how it turns practicing vocals into a game For Game Design - Andrea Angiolino was born the 27th of April, 1966 in Rome, the city where he still lives. He published many boardgames and books about games, besides developing games for every media. His works appeared in more than a dozen of languages including Korean, Czech and Maltese. He is a game journalist on national magazines, newspapers,… . You can download additional songs, sing along, or switch to A Cappella mode whenever you like.
These iPhone apps provide musicians with exciting opportunities to explore their creativity An Artist Portrait (Part One) - This is a fantastic article written exclusively for my Weblog by Frank V. Cahoj. Please feel free to comment here or send him emails. He'll be happy of this. An Artist Portrait (Part One) My name is Frank Cahoj and I have been an artist since I was born. I can say this in confidence without… , improve their skills, and connect with a global community of music lovers.
Manuel Marino is a seasoned Senior Producer, Music Composer, and Artist with over a decade of experience. He specializes in branded entertainment across various mediums, including video games, films, and advertising campaigns. With 20+ years as a game music composer, Manuel has worked on numerous platforms, creating diverse orchestral soundtracks. HIRE ME