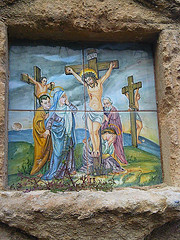 by
Karen V Bryan
Wearing jewelry is often an expression of one's personality. While gold and silver pieces may denote status, there are other types, such as religious Painting: A Spiritual Pathway to the Divine - In a world increasingly driven by technology and fast-paced living, the art of painting provides an oasis of calm and introspection. It allows both the artist and the observer to delve deep into a realm often considered transcendental. For many, painting serves as a bridge to the divine, a medium through which spirituality is explored… jewelry, that serve as an affirmation of one's beliefs. Religious jewelry is an expression of one's faith and is often worn with pride. One of the most well-known types of Christian religious jewelry is the cross or the crucifix, the main difference between the two being that the crucifix features the body of Christ on it.
Medallions are another common form of Christian jewelry. These often represent patron saints that an individual follows. Each medal typically has an image of the patron saint embedded in it, making it a personal choice depending on the connection an individual has with a particular saint. Some are given on specific occasions, like St. Michael for those in law enforcement or the armed forces, or St. Cecelia for those involved in music, and so on.
The Miraculous Medal is also popular today, believed to have been handed down by the Blessed Virgin Mary as a scapular medal and available in the form of a fabric-based medallion. The rosary is another type of religious jewelry, as are rosary bracelets. These pieces commonly feature a decade of the rosary wrapped around the neck or wrist and can also come in the form of bracelet charms. You can choose to create them from precious stones, birthstones, or any other material that appeals to you. Earrings are another popular form of religious jewelry, often chosen by women and men alike, with crosses being a favored design Carpet making - Here's a very interesting article on the Art of carpet making, written by Alhan Keser. Alhan is in in charge of communications for Tip Top Design, a company that specializes in interior design with oriental rugs. He has lived in Turkey and France, working as a freelance journalist and documentary maker. Carpet making The story… . The simple reasoning behind this type of jewelry is that it is relatively inexpensive and an easy way to proclaim one's beliefs.
Religious jewelry makes a great gift idea for any occasion or for any sacrament received by a family member. These pieces serve as a reminder of the significant event and help to proclaim one's faith.
Manuel Marino is a seasoned Senior Producer, Music Composer, and Artist with over a decade of experience. He specializes in branded entertainment across various mediums, including video games, films, and advertising campaigns. With 20+ years as a game music composer, Manuel has worked on numerous platforms, creating diverse orchestral soundtracks. HIRE ME