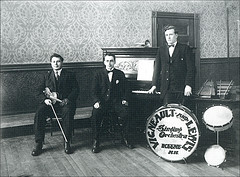 by
Keene and Cheshire County (NH) Historical Photos
Change never ceases. This age-old adage holds true for musicians who attempt to transition from the music recording industry to films. Here is a list of 10 musicians who have not only been prominent for their vocal abilities, but also their acting prowess. You can enjoy the music of these stars on internet radio.
Whitney Houston – As young as 11 years old, Whitney began singing in a gospel choir at her New Jersey church. Her self-titled debut album New Album - Lost Island - I'm excited to announce the release of my latest Trance music album, "Lost Island". It's now available on various digital outlets worldwide, so you can easily find it by doing a quick search on any search engine! But if you're short on time and don't want to go through the hassle of searching, browsing, and… became a best-seller upon its release, while her second album topped both the US and UK album charts. Her success in the music industry What Is A Musician? - For some individuals, the role of a musician may be difficult to comprehend. They may struggle to understand: 1 - the nature of a musician's talent or job, 2 - why musicians work around the clock, and 3 - the concept of a fanbase and the boundaries musicians set with fans. Let's delve into each… paved the way for other African-American singers to showcase their talents.
In addition to being an exceptional musical artist An Artist Portrait (Part One) - This is a fantastic article written exclusively for my Weblog by Frank V. Cahoj. Please feel free to comment here or send him emails. He'll be happy of this. An Artist Portrait (Part One) My name is Frank Cahoj and I have been an artist since I was born. I can say this in confidence without… , Whitney transitioned to the silver screen, starring in "The Bodyguard" with Kevin Costner. The film's soundtrack single "I Will Always Love You" is considered one of the best-selling singles in the history of the recording industry. In subsequent years, she continued acting in movies like "Waiting to Exhale" and "The Preacher's Wife," for which she also contributed soundtracks Darklands, a Classic RPG - I'll talk about Darklands, a Classic RPG in a moment. April is an excellent month to reflect on how the year is going and whether we have achieved all or some of the goals we set for ourselves (Read - Overcoming Procrastination). It's also a time to assess the overall positive or negative trend of… .
Madonna – She has made a name for herself in the entertainment industry, as well as the music industry. Her film appearances include roles in "Dick Tracy" as a temptress, "Four Rooms" as a sultry coven member, and "Swept Away" as a naïve socialite stranded on a remote island. Her most acclaimed film was "Evita," which earned her a Golden Globe award for her portrayal of Eva Peron.
Janet Jackson – At the age of 16, she signed her first recording contract. Despite facing criticisms, she persevered and became a successful recording artist. Initially appearing on TV shows like "Good Times," "The Jacksons," and "Fame," she achieved success in the film industry by starring in "Poetic Justice," followed by "For Colored Girls" and "Why Did I Get Married." She proved versatile enough to excel in both singing and acting. You can find Janet's hits on your favorite internet radio station.
Jennifer Lopez – This singer and actress is one of the most talented performers, combining singing, dancing Trance Music - Free Flowing Electronica - Have you ever found yourself dancing in a club, utterly absorbed in the melody, feeling as if the trance music is flowing through you and guiding your body's movements? This is an experience I've had numerous times during carefree nights at local techno clubs I've often wondered which type of techno generates this unforgettable sensation… , and acting. Her most successful films include "Anaconda" as a National Geographic director, "Shall We Dance" (with Richard Gere as her ballroom dance instructor), and "Selena," in which she portrayed the titular character. She has received recognition from various organizations, including the Golden Globe, and was listed in the 2007 Guinness Book of World Records as the most successful actress.
Jon Bon Jovi – Some of his film credits include "U-571" as a US submarine chief engineer, "Pay It Forward" as the abusive husband of Helen Hunt, and as a suspicious teacher in "Cry Wolf."
Ice-T – Among the films in which he has appeared are "New Jack City" as an undercover cop, "Tank Girl" as a mutant kangaroo, and "Johnny Mnemonic" as gang leader J-Bone. On television, he also starred in "Law and Order: Special Victims Unit" as a police detective, for which he received nominations and later won the NAACP Image Award for Outstanding Supporting Actor in a Drama Series.
These are just a few examples of successful recording artists who have also had notable film careers. Other recording artists not mentioned here have had great success, while some have had less impressive film debuts and faded into obscurity. Undoubtedly, music fans everywhere look forward to future appearances in movies by their favorite recording artists.
Manuel Marino is a seasoned Senior Producer, Music Composer, and Artist with over a decade of experience. He specializes in branded entertainment across various mediums, including video games, films, and advertising campaigns. With 20+ years as a game music composer, Manuel has worked on numerous platforms, creating diverse orchestral soundtracks. HIRE ME