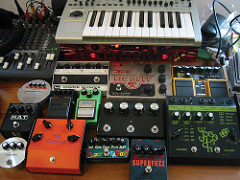 Photo by Terekhova
As a bass player, I initially wasn't a big fan of sound suppression, but playing at high volumes in less-than-ideal venues can change your perspective. I use an Ibanez full-range active bass with a Peavey 1000 Watts Kilobass head and a Hartke HyDrive speaker cabinet.
When I first saw the Boss NS-2 Noise Suppressor pedal, it struck me as well-made and sturdy, like many other Boss pedals. With just three knobs, it was easy and quick to dial in. "Don't fix what ain't broken" could almost be said about all Boss pedals. They have consistently remained the best and most reliable pedals available.
The amount of noise that the NS-2 can suppress is amazing. The moment you step on the switch, you realize what you've been missing out on. The "Threshold" and "Decay" knobs give you complete control over the "Cut." Whether you want to eliminate a lot of noise or just a little, this pedal does the trick. And if you want some controlled feedback, this pedal can handle that too. Let's not forget about the Mode switch, which allows you to use the pedal as a mute switch.
Another cool feature of the NS-2 is its ability to be used in an effects loop. It has two jacks on each side, allowing you to run it inline with your pedal setup using the Output and Input jacks, or you can use it through your loop with the Send and Return jacks.
Manuel Marino is a seasoned Senior Producer, Music Composer, and Artist with over a decade of experience. He specializes in branded entertainment across various mediums, including video games, films, and advertising campaigns. With 20+ years as a game music composer, Manuel has worked on numerous platforms, creating diverse orchestral soundtracks. HIRE ME