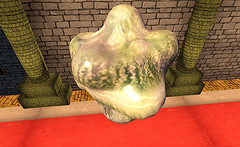 by
▓▒░ TORLEY ░▒▓
Few tracks can make people feel energized, excited, anxious, powerful, breathless, and edgy all at the same time. Such an explosive musical masterpiece as Darude's 1999 track, "Sandstorm," only comes around every few years. Perfect for clubs and discos around the world, "Sandstorm" has been a hit for a long time. With that kind of techno music-inspired genius, it's no wonder this track has become so successful.
From its origins in Finnish clubs by DJ Darude – eventually produced professionally by 16 Inch Records and released in November of 1999 – "Sandstorm" took the nation by storm (no pun intended). Due to its raving national success, the record company took "Sandstorm" international, releasing it to a broader European audience in 2000. It also gained recognition there, almost instantly becoming a worldwide hit in the first year of the new millennium.
With the entrancing first minute of the track, listeners are gradually introduced to a techno-adventure, as the sound of cymbals clashing grows closer and more menacing with each passing beat. Rhythmic techno beats begin softly in the distance and grow louder and more powerful until an explosion of techno beats takes over the initially delicate sequence TranceEngine from FeelYourSound - Today we review TranceEngine from FeelYourSound TranceEngine VST and AU plug-in (feelyoursound.com) With this impressive VST plugin you can create Trance sequences to be included in your Trance masterpiece and you will create stunning tracks like my Dream a Trance Music To create the first sequences for your track it's very easy. Let's start from… of the track.
It is a masterfully-woven, yet heart-racing assortment of beats that go from high-speed trance Trance Music - Free Flowing Electronica - Have you ever found yourself dancing in a club, utterly absorbed in the melody, feeling as if the trance music is flowing through you and guiding your body's movements? This is an experience I've had numerous times during carefree nights at local techno clubs I've often wondered which type of techno generates this unforgettable sensation… to stuttering, cautious ticks of the beat, and right back to the unending assimilation of techno choruses that keep the track flowing faster than a raging hurricane.
The middle of the extended version (the radio edit is around 3:30, the longer version is over 7 minutes) contains a brief pause in the flow of the beats, with just the occasional ominous cymbal again clattering far off in the distance. The entire feel of the track gives the listener the sensation of the music coming from some far-away place, not in the close proximity of their ears.
Furthermore, this track was so popular around the world that it managed to land in some prestigious dance-based games Darklands, a Classic RPG - I'll talk about Darklands, a Classic RPG in a moment. April is an excellent month to reflect on how the year is going and whether we have achieved all or some of the goals we set for ourselves (Read - Overcoming Procrastination). It's also a time to assess the overall positive or negative trend of… , like DDRMAX Dance New Album - Lost Island - I'm excited to announce the release of my latest Trance music album, "Lost Island". It's now available on various digital outlets worldwide, so you can easily find it by doing a quick search on any search engine! But if you're short on time and don't want to go through the hassle of searching, browsing, and… Dance Revolution. Despite its declining popularity since its first release over a decade ago, it has received top awards from countries including Germany, Australia, and the US. It remains frequently played today during various sporting events to ignite excitement amongst the crowds for the home team.
Manuel Marino is a seasoned Senior Producer, Music Composer, and Artist with over a decade of experience. He specializes in branded entertainment across various mediums, including video games, films, and advertising campaigns. With 20+ years as a game music composer, Manuel has worked on numerous platforms, creating diverse orchestral soundtracks. HIRE ME