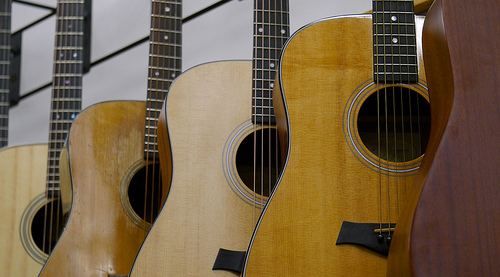 Schecter Guitars: High-End Quality and Rarity
Schecter guitars are currently known as high-end quality instruments that are sleek and beautiful, with a price to match. Best recognized for their custom-made guitars, which can only be purchased through authorized dealers with restrictions, Schecter Guitars have gained a reputation as a rare breed – and they are both rare and popular.
Schecter Guitars History
Although relatively new and with a somewhat obscure past, Schecter guitars were founded by David Schecter in 1976. Located in Van Nuys, California, the now-celebrity-endorsed company began by producing replacement parts for Gibson and Fender guitars, such as brass pickguards and innovative tapped pickups. Tapped pickups are a great addition to a guitar, as they enable a double coil pickup in a single coil package, allowing you to switch the second single coil pickup on and off to create the enticing humbucker sound.
Schecter was also one of the first guitar part manufacturers to offer "black chrome" coloring for guitar bodies, which was growing in popularity among metal artists.
The success of parts production allowed Schecter to expand and move to Dallas, Texas, but things soon took a turn for the worse. Mass-producing Schecter guitars negatively impacted their sound and quality, damaging the company's reputation.
In 1991, Schecter was purchased by the Los Angeles Musician's Institute and EPS Guitars, though David remained involved. They moved the company back to California, where Schecter's future looked brighter. Schecter continued to produce custom guitars while rebuilding its reputation by offering affordable guitars for beginners and budget-conscious consumers.
Tempest Avenger Hellcat Diamond
Later, Schecter invited Pete Townshend to design Carpet making - Here's a very interesting article on the Art of carpet making, written by Alhan Keser. Alhan is in in charge of communications for Tip Top Design, a company that specializes in interior design with oriental rugs. He has lived in Turkey and France, working as a freelance journalist and documentary maker. Carpet making The story… a custom 'Telecaster' with two humbucker pickups for the company to manufacture. This unique marketing Marketing and Music: Any Song Can Become Famous? - Today let's dive into a topic that's been buzzing around a lot: the relationship between marketing and music. We all know that marketing plays a massive role in the music industry, but does it actually hold the power to make any track a hit? Or does talent still stand a chance? First off, let's address… tool, along with Mark Knopfler's endorsement, revitalized Schecter's reputation and brought them back into production. Since then, these high-end and widely appreciated guitars have attracted endorsements from The Cure's Robert Smith and Simon Gallup, even producing a Robert Smith model – a feature that made the guitar manufacturer famous among Cure fans.
Who Uses Schecters
Serious musicians appreciate a striking guitar with custom parts and an eye-catching paint job. Both of these features contribute to the wide range of artists who use Schecter guitars, demonstrating their versatility. From hard rock A Finnish music story - Musician Matti Mattila wrote his story for us, a Finnish music story! Please read also his Finnish blog and check his page at LinkedIn. I named this article "A Finnish music story" because through Matti words we can know an exclusive tale about late 70's and 80's of Finnish music. Of course the personal thoughts… to metal, punk, industrial, goth, pop, and almost everything in between, no one can resist a Schecter.
Pete Dee, The Adicts Dez of Misfits Adam, Three Days Grace Charles Levi, Thrill Kill Kult Raven, Killing Joke Jack Owen, Deicide The Warriors
The Value
Ultimately, the rarity and high price of these instruments do not deter many guitarists' desire to own one. Quality, style, and exceptional components form the foundation of Schecter guitars and keep them worth their setbacks.
Manuel Marino is a seasoned Senior Producer, Music Composer, and Artist with over a decade of experience. He specializes in branded entertainment across various mediums, including video games, films, and advertising campaigns. With 20+ years as a game music composer, Manuel has worked on numerous platforms, creating diverse orchestral soundtracks. HIRE ME