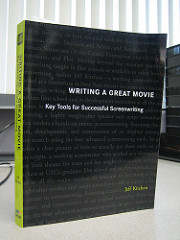 Photo by aplumb
The renowned writer/director Billy Wilder offered this piece of advice on screenwriting and filmmaking: "Grab 'em by the throat and never let go."
This is what your first act, specifically, your initial 10 pages, should accomplish. The first act serves several purposes. It introduces your main characters, the setting, the time period, the theme, genre, and tone. This is the act where we meet both the protagonist and the antagonist.
In some films, we might not encounter the antagonist directly, but we are at least introduced to them, with hints of an ultimate revelation, as is often the case in mysteries. Even if we don't see them yet, we are made acutely aware of their presence and the negative, often devastating, impact they will have on other characters in the story.
The first act also establishes the premise of the story: a saloon owner is surprised to see the woman he loves walk back into his life An Artist Portrait (Part Two) - This is the Part Two (and final part) of the true life story as artist written by Frank V. Cahoj for our Weblog. (Part One) An Artist Portrait (Part Two) I give an unbelievable amount of credence to these two early periods in my life: one of everlasting creation, one of analysis and disillusionment. The… during World War II (Casablanca); a giant shark threatens a beach resort town at the beginning of the summer tourist season (Jaws); a young fighter pilot must rescue a kidnapped princess and destroy an evil empire (Star Wars).
Your first act should captivate the Hollywood executive within the first 10 pages, or they will stop reading and move on to the next script in the pile.
The first act of a script is typically longer than 10 pages, but that is all the time and space you have to convince someone to continue reading.
Most screenwriting instructors suggest that the first act should comprise about one-fourth of the screenplay. However, many first acts are shorter. All first acts end with the inciting incident, an event that either encourages or forces the protagonist to change their course and embark on a new journey.
Manuel Marino is a seasoned Senior Producer, Music Composer, and Artist with over a decade of experience. He specializes in branded entertainment across various mediums, including video games, films, and advertising campaigns. With 20+ years as a game music composer, Manuel has worked on numerous platforms, creating diverse orchestral soundtracks. HIRE ME