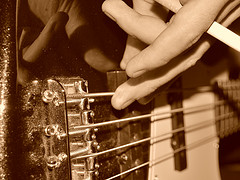 by
guki92
When trying to choose the right instrument, it can often be challenging to sift through all the information available to find the perfect one for you. This is especially true when it comes to the 4-string bass guitar Learning to Enjoy Bass Guitar - Do you enjoy bass guitar? A bass guitar is a four-stringed instrument that typically accompanies a lead guitar. Some bass guitars have additional strings, with 5 or 6 strings in total. Bass guitars produce lower tones, and an electric bass guitar is connected to an amplifier for enhanced sound. When learning to play the bass… . However, with the right information, your search for a 4-string bass guitar can be effortless and even enjoyable. Below, I have compiled a brief list of some excellent 4-string bass guitars that would be perfect for the aspiring musician What Is A Musician? - For some individuals, the role of a musician may be difficult to comprehend. They may struggle to understand: 1 - the nature of a musician's talent or job, 2 - why musicians work around the clock, and 3 - the concept of a fanbase and the boundaries musicians set with fans. Let's delve into each… or the seasoned veteran looking to add to their collection.
Fender Aerodyne
As is the case with many things related to guitars, Fender is an excellent place to start when trying to find the perfect 4-string bass guitar for you. This instrument's Basswood body with a unique radius carved top allows it to deliver a beautiful natural tone through its maple neck with rosewood fingerboard. Add its precision jazz pickups to the fact that you can find it for under $800, and you've got a real steal.
Boulder Creek EBR1-B4
This is a 4-string bass guitar from an up-and-coming music company. All Boulder Creek guitars feature solid tops, solid backs, and laminated sides for strength and durability, and necks made of high-quality wood from around the world. Although these 4-string bass guitars are designed with a sound port on the top to direct sound towards the player, these stunning instruments still produce an excellent outward sound and are perfect for all working musicians. Consider this instrument's beautiful gloss black finish combined with the low price of under $699, and it offers a fantastic product for players of all levels.
Yamaha RBX170
Lastly, we have an excellent 4-string bass from Yamaha. As you may know, Yamaha is known for producing products of great value, and this instrument is no exception. It features a rosewood fingerboard, agathis body, and maple neck, allowing for easy playability for players of any level. Its split coil pickups enable it to deliver a very full tone, and for under $220, it's a value that's hard to pass up.
These, of course, are not the only 4-string bass guitars available, but they are an excellent place to start. Whichever instrument you choose, it's essential to find one that best fits your personality and playing style. No matter what, always keep practicing, and you'll be sure to find yourself under the bright lights in no time.
Manuel Marino is a seasoned Senior Producer, Music Composer, and Artist with over a decade of experience. He specializes in branded entertainment across various mediums, including video games, films, and advertising campaigns. With 20+ years as a game music composer, Manuel has worked on numerous platforms, creating diverse orchestral soundtracks. HIRE ME