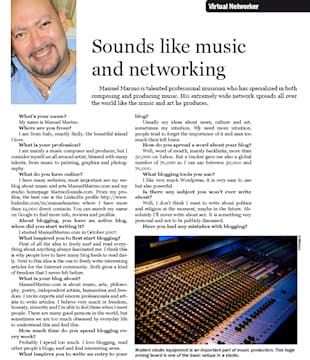 Wizzit Magazine interviewed me about Blogging and Social Networking. I have to thank Matti Mattila, the reviewer and open networker. If you remember, Matti wrote A musician story. Here is a short excerpt from the magazine article that you can download here in pdf format.
Sounds like music and networking
Matti Mattila: About blogging, you have an active blog, when did you start writing it?
Manuel Marino: I started ManuelMarino.com in October 2007.
What inspired you to first start blogging?
First of all the idea to freely surf and read everything about anything always fascinated me. I think this is why people love to have many blog feeds to read daily.
Next to this idea is the one to freely write interesting articles for the Internet Stream, Game, Connect: Wifi Repeater is Here! - Meet the Wifi Repeater: your solution for lag-free streaming, gaming, and video calls. Enjoy faster, stronger, and more reliable internet now. community. Both gives a kind of freedom that I never felt before.
What is your blog about?
ManuelMarino.com is about music, arts, philosophy, poetry, independent artists, humanities and freedom. I invite experts and sincere professionals and artists to write articles.
I believe very much in freedom, honesty, sincerity and I'm able to feel these when I meet people. There are many good persons in the world, but sometimes we are too much obsessed by everyday life to understand this and find this.
How much time do you spend blogging every week?
Probably I spend too much. I love blogging, read other people's blogs, surf and find interesting news.
What inspires you to write an entry to your blog?
Usually my ideas about news, culture and art, sometimes my intuition. We need more intuition, people tend to forget the importance of it and uses too much their left brain.
Manuel Marino is a seasoned Senior Producer, Music Composer, and Artist with over a decade of experience. He specializes in branded entertainment across various mediums, including video games, films, and advertising campaigns. With 20+ years as a game music composer, Manuel has worked on numerous platforms, creating diverse orchestral soundtracks. HIRE ME