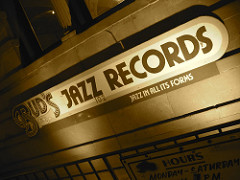 Photo by "CAVE CANEM"
Starting a recording label is a significant and thrilling undertaking. While you may be passionate about sharing your music, it's important to approach your label as a serious business venture.
The first step is to choose a name for your record label. This can be more challenging than anticipated. Look for a name that is unique and has some connection to the genre of music you will be releasing.
Once you have found a name you like, it's time to do some additional research. Come up with alternative names, just in case you discover that someone else already has rights to your chosen name when you go to register with the state department. It's crucial to be prepared with alternatives.
As you start your recording label, you will need to make decisions about how you will run your business. Different types of business entities have different tax regulations and operating procedures. Your options include sole proprietorship, partnership, or corporation. Research each option to determine which one is the right fit for you.
Before obtaining your business license and getting busy, there are several important factors to consider. Developing For Game Design - Andrea Angiolino was born the 27th of April, 1966 in Rome, the city where he still lives. He published many boardgames and books about games, besides developing games for every media. His works appeared in more than a dozen of languages including Korean, Czech and Maltese. He is a game journalist on national magazines, newspapers,… a business plan will help you navigate this process. As a musician What Is A Musician? - For some individuals, the role of a musician may be difficult to comprehend. They may struggle to understand: 1 - the nature of a musician's talent or job, 2 - why musicians work around the clock, and 3 - the concept of a fanbase and the boundaries musicians set with fans. Let's delve into each… rather than a businessperson, you may not have much knowledge about running a business. Fortunately, there is software available specifically designed to assist you. This specialized software guides you through the entire process of starting a record label. By utilizing this software, you can create a comprehensive business plan with the help of experts. This software is available online and should be your first step once you decide to pursue your record label.
A business plan serves as a roadmap not only for yourself but also for potential investors, partners, and musicians who may become involved in your label. It provides a clear vision of your goals and direction. Once you have a solid plan in place, you can proceed to obtain your business license and start reaching out to musicians to release your first record.
Remember, starting a recording label is not just about the music—it's also about running a successful business. With careful planning and the right tools, you can navigate this exciting journey with confidence.
Manuel Marino is a seasoned Senior Producer, Music Composer, and Artist with over a decade of experience. He specializes in branded entertainment across various mediums, including video games, films, and advertising campaigns. With 20+ years as a game music composer, Manuel has worked on numerous platforms, creating diverse orchestral soundtracks. HIRE ME