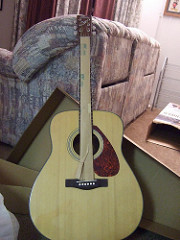 Photo by radialmonster
To create a guitar, you will need the following tools and materials:
A great, sturdy work countertop or table is essential.
Sandpaper, emery paper, and a sanding block for smoothing and refining the surfaces.
Paint, stain, or lacquer for the finishing touches.
An air gun or aerosol containers for applying the finish.
A good screwdriver set for assembling the guitar.
Soldering iron and solder, although they are usually not required for guitar making.
A really sharp chisel for precise and clean cuts.
An electric power drill for drilling holes and other tasks.
Clamps to hold the pieces in place during construction.
You don't have to spend a fortune on tools to build a guitar. Kit guitar making is not limited to those with a fully equipped tool cabinet. Tools are meant to make your life An Artist Portrait (Part Two) - This is the Part Two (and final part) of the true life story as artist written by Frank V. Cahoj for our Weblog. (Part One) An Artist Portrait (Part Two) I give an unbelievable amount of credence to these two early periods in my life: one of everlasting creation, one of analysis and disillusionment. The… easier …
...Read the rest.
"The tools you need to build your own guitar"