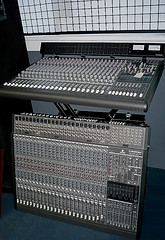 Photo by Mikey G Ottawa
Pro sound systems come in various designs, ranging from large installations to compact yet powerful setups. Each type of sound system is designed for specific uses, whether fixed or portable. These systems have different features based on their intended applications. While a large professional sound system may cater to hundreds or thousands of people, it may not be suitable for a small venue.
To determine the scale of the professional sound system you need, it is important to consider the number of people you need to reach with the system and the size of the area that needs to be covered. Other factors, such as the placement and location of speakers, also need to be addressed as not every speaker is suitable for the same setting. Nowadays, many speakers are designed for specific purposes, whether it's providing sound coverage for a small hall or a live concert. Several companies offer professional sound packages tailored for specific uses. However, it is not always the best approach to achieving optimal sound coverage. Let's now look at the three essential components of a professional sound system:
Mixers: The mixer is a crucial component of the sound system. It
…
...Read the rest.
"Pro Sound Systems – Putting It Together"