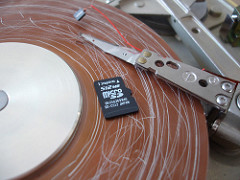 Photo by OndraSoukup
Everyone who is old enough to have listened to music before CDs has a collection of vinyl records and magnetic tape cassettes stashed somewhere. These records not only have fantastic cover art but also music that still sounds great. Now, there is a concerted effort to develop hardware and software that allows you to convert that analog sound into a digital format and organize it on a CD or an MP3 player.
Firstly, you will need a turntable and/or a cassette player. Since you will be using a computer Yestel Tablet - Thursday, approaching the End of the Week: Yestel tablet. As the week draws to a close, an unfortunate incident occurred - my son accidentally broke his tablet. In search of a replacement, I turned to Amazon and discovered an exceptional find. Introducing Yestel Tablet: A Remarkable Tablet Brand The tablet I came across was from… to convert your old sound into a digital format, you'll need a cable that connects the turntable or cassette player to your PC or Mac. Cables with the old-style audio jacks on one end and a USB connector on the other end are quite common and can be found in …
...Read the rest.
"Digitizing Those Old Records And Tapes"